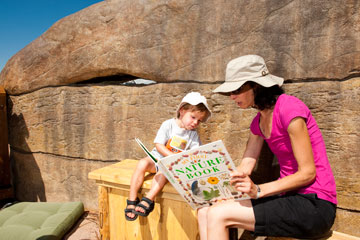 Enhance your visit to the Mordecai Children's Garden with one of our free drop-in programs. Offered every weekday, these programs will help your child connect to the wonders of the natural world. Programs are free with admission and do not require any advance registration.
Exploration Station
Drop by the Exploration Station every Monday, Wednesday, and Friday morning to take a closer look at the wonders of nature. Dissect a plant in the alpine garden, discover how to tell the age of a tree on Marmot Mountain, or use the natural grasses in the Glorious Grasslands to weave a masterpiece! A perfect setting for grownups and children to appreciate nature together. All ages welcome; best for ages 3-8.
Mondays, Wednesdays and Fridays, 10-11:30 a.m.
Sensory Sensations
Sensory Sensations are specially designed to give the Children's Gardens youngest visitors, and their grownups, their first hands-on experiences with nature. Feel grasses tickle your toes, watch the wind carry bubbles up and away, and hear the striking sounds of the outdoors. Drop by on Tuesday mornings to experience a special activity that stimulates the senses. Ages birth to 36 months; best for ages 12-24 months. Older siblings are welcome to gently experience nature with their senses.
Tuesdays, 9:30-10:30 a.m.
Stories in Action
A perfect opportunity for children and their grownups to experience nature through literature! Join us at Sagebrush Stage every Thursday at 10 a.m. as we make our favorite stories come alive. Some of our favorite fall stories include: "Inch by Inch" by Leo Lionni, "Little Cloud" by Eric Carle, "Possum's Harvest Moon" by Ann Hunter, and "Bug Town Boogie" by Warren Hanson. All ages welcome; best for ages 3-8.
Thursdays, 10-10:30 a.m.