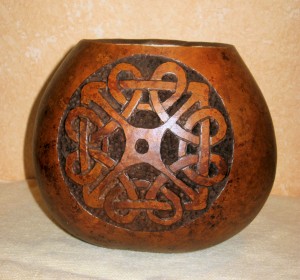 Gourds have been cultivated since prehistoric times and used for a variety of purposes including cooking and water vessels, musical instruments, birdhouses, and eating utensils.  Gourds are members of the squash family and need a relatively long, warm growing season to reach maturity.  Once harvested and allowed to dry for several months, gourds develop a hard shell.  The characteristic rattle of seeds inside the gourd indicates they are ready to use. Their hard shells and wide variety of sizes and shapes make gourds ideal for artistic expression, including painting, dyeing, carving, wood-burning, and doll-making.
Gourd artists are often inspired by primitive and nature-centered cultures and themes, such as Celtic art. Celtic art is the art associated with the peoples known as Celts - those who spoke the Celtic language in Europe from pre-history through to the modern period.  Celtic art consists of characteristic curves, spirals, knots, plant, animal and human images.  As the archaeologist Catherine Johns put it, "Common to Celtic art over a wide chronological and geographical span is an exquisite sense of balance in the layout and development of patterns. Curvilinear forms are set out so that positive and negative, filled areas and spaces form a harmonious whole."   The primitive themes and beautiful symmetry of Celtic designs are perfect for carving on gourds.
Interested in learning how to create your own Celtic design and carved gourds?  Sign up for our Celtic Carved Gourds class that is taking place here at the Gardens on Saturday, October 16th.   Instructor Linda Gibbons will teach you how to cut, clean and dye a gourd using water-based dyes.

Article written by guest blogger, Linda Gibbons.  Linda has a deep love for nature, which drives her interest in all things botanical, including growing medicinal herbs and creating gourd and pine needle baskets.  In addition to teaching classes at the Gardens, Linda is also a licensed acupuncturist.  Visit her website to learn more.