Families are invited to join us on Friday, September 23 to explore space and discover what it is like to be an astronaut. Our special guest, NASA, will be featuring special space-related activities.  From 5:30-8:30 p.m. in Mordecai Children's Garden, there will be many ways for families to explore, discover and celebrate space.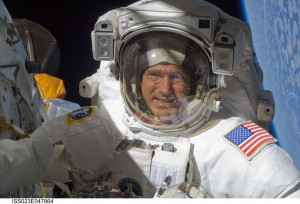 Throughout the evening, families will have the opportunity to learn what astronauts eat while in space, make their own space food and design their own paper rocket.  NASA astronaut Col. Mike Good, who has spent 25 days in space on mission to the Hubble Telescope and the International Space Station, will join us to share slides and videos of his missions into space, sign autographs and participate in a question and answer session with families. Families are encouraged to bring a picnic dinner to enjoy in the Children's Garden.
Cost: $20 member for a family of four, $3 for each additional person. $25 non-member for a family of four, $4 for each additional person. Children two and under are free of charge.  Please register online or call 720-865-3580 to reserve your family's spot.
Where: Mordecai Children's Garden.  Family Fun Night access is through the Morrison Discovery Center gate at the southeast corner of York Street and 11th Avenue.  Park in the garage, exit at Level 2, turn right and walk down the sidewalk to the entrance.
Celestial Celebrations is the fifth of six Family Fun Nights, to be held the fourth Friday of every month, April-October (there is no Family Fun Night in July).  Learn more about Family Fun Nights.