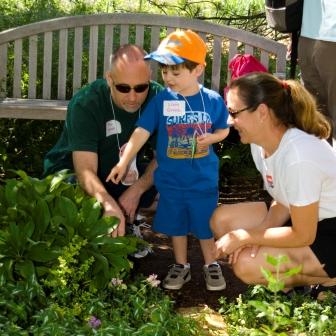 Families are invited to join us on Earth Day, Friday April 22, to celebrate the many miracles of Mother Earth.  From 5:30-8:30 p.m. in the Mordecai Children's Garden, we'll have many ways for you to explore, discover and celebrate nature.  You'll learn how to make a difference with special activities such as seed planting, bird feeders and waste sorting.  Digger the Marmot will join us with interactive stories the whole family will enjoy.  Families are encouraged to bring a picnic dinner to enjoy in the Children's Garden.  Snacks will be available at the campfire in Sagebrush Stage.
Cost: $20 member for a family of four, $3 for each additional person. $25 non-member for a family of four, $4 for each additional person. Children two and under are free of charge.  Please register online or call 720-865-3580 to reserve your family's spot.
Where: Mordecai Children's Garden.  Family Fun Night access is through the Morrison Discovery Center gate at the southeast corner of York Street and 11th Avenue.  Park in the garage, exit at Level 2, turn right and walk down the sidewalk to the entrance.
Celebrating the Earth is the first of six Family Fun Nights, to be held the fourth Friday of every month, April-October (there is no Family Fun Night in July).  Here is more information about Family Fun Nights.