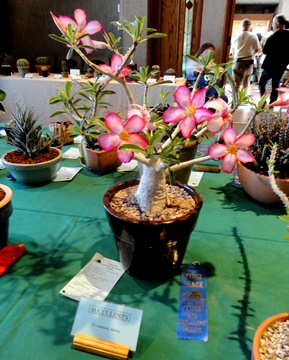 Adenium obesum
If you haven't figured it out yet, now's the time: Succulents are HOT!  On Saturday morning, March 29, a fantastic assemblage of HUNDREDS of spectacular succulent plants will be gathered together in Gates Hall at Denver Botanic Gardens. The largest show of its kind in the region, this annual event attracts hundreds of enthusiasts from as far away as New York and the Midwest. The beautiful "Desert Rose" above--a fantastic succulent stemmed plant from Africa and Socotra--received a well deserved first prize when shown by Bill Adams a few years ago. It helps that it was in perfect bloom the day of the show!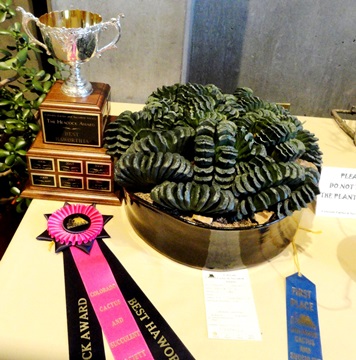 Haworthia truncata
It's no surprise that Dana Such's unbelievable pan won the "Best Haworthia" prize. I can't imagine how many years this gnarly thing has been growing. What a joy it is to walk through and see hundreds of perfectly grown plants arrayed together!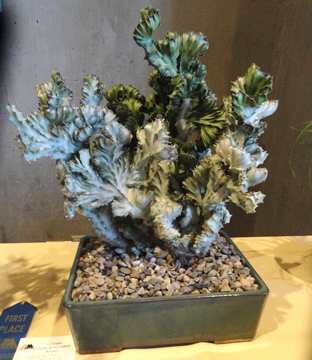 Euphorbia lactea 'Crested'
Another first place winner! Doesn't this look like an immense piece of coral? You practically expect to see Nemo or at least the Little Mermaid swim by! Compare these three succulents (and we've not even LOOKED at the cacti yet) and you realize the enormous range of form, color and texture covered by the simple term "succulent."
Put the Show and Sale on your radar. Better yet put it on your CALENDAR. Better yet, just show up and join me in oogling these wonderful plants. And bring your credit card and you can load up on some of the thousands of wonderful plants in the sale next door, so one day you TOO can exhibit and win one of those shiny, satiny blue ribbons!