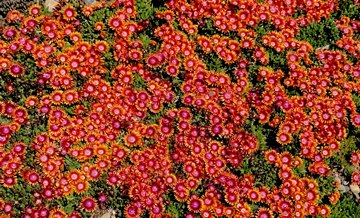 Delosperma Fire Spinner
In the course of my tenure I've seen many fads and enthusiasms sweep over Denver Botanic Gardens. Some (like perennial gardens and Xeriscape) seem to have stuck around. If you haven't noticed, succulents are HOT right now. Each year I notice more and more containers planted with succulents rather than just annuals, and sedums and delospermas are being used as small scale groundcovers in more and more gardens.
For those of us who love succulents, the annual show and sale of the Colorado Cactus and Succulent Society has become ESSENTIAL. Nurseries and growers from across the USA come with rare plants you won't find anywhere else--and the competition keeps prices low. Literally thousands of kinds of succulents will be on sale, from very inexpensive ones in small pots to specimens your neighbors will envy. If you have not yet acquired Fire Spinner--a blockbuster succulent introduced by Denver Botanic Gardens and Plant Select--now is a great time to do so. Wear sunglasses when it's in full bloom like this!
2015 Colorado Cactus and Succulent Society Annual Show & Sale: Saturday & Sunday, March 28-29, 2015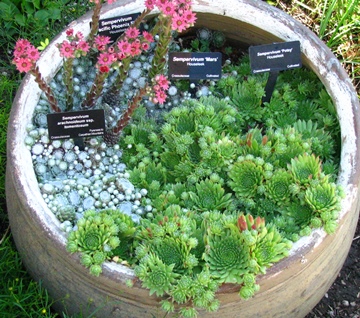 Succulent container at El Pomar waterway
Denver Botanic Gardens has led the way in experimenting with new plants and ways to grow them. Perhaps you have admired the tilted pots along the El Pomar Waterway, filled with wonderful collections of hens and chicks (Sempervivum). Each pot looks utterly different from the next, and of course they sit out there, year in year out with just a modicum of attention and care. With water becoming a bigger and bigger concern for homeowners, succulents provide a wonderful option for having beauty with less irrigation! You will find many succulent pots this summer at the Gardens featuring tender succulents as well.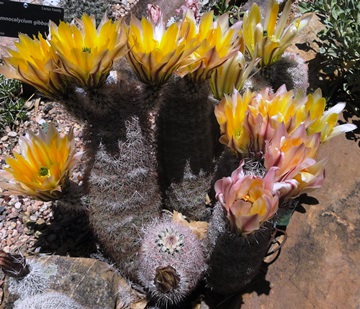 Echinocereus dasyacanthus
Of course, no plants need less water than cacti. And of course many of the ball cacti and hedgehog types are not even particularly prickly. This gorgeous yellow hedgehog from New Mexico is one of my favorites, growing in Dryland Mesa. I don't know about you, but I NEED that plant. And you're apt to find it at this sale (this and hundreds more!). Some people don't like cacti, I'm told. I just think they haven't gotten STUCK on them enough yet!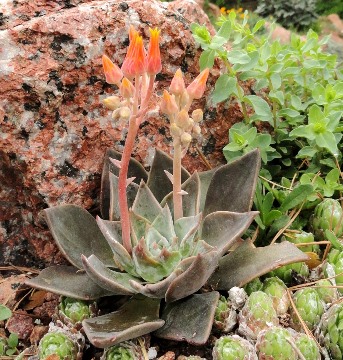 Dudleya pumila
Of course, for us aficionados, the sculptural architecture of succulents is what appeals to us. The flowers are lovely in many cases, but the stems and leaves are there year around--living sculpture in your home and garden.