What I enjoy most about early blooming bulbs is the element of surprise. I am not sure why, but each year these early performers seem to bloom intensely and catch me off guard. The flower size seems so large for the small leaves of the plant, and the fact that they naturalize and produce colorful carpets in March is an added bonus.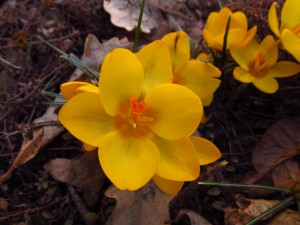 Here is Crocus ancyrensis 'Golden Bunch', blooming in the Roads Water-Smart Garden. This crocus is one of the first crocus to bloom - look at the amazing orange pistil! What I find so fascinating about crocus is their versatility and ability to live in a variety of climates.  
A true delight in any garden is the dwarf iris. Above is Iris histrioides 'George' showing its beautiful purple color, which is found in the Rock Alpine Garden. Iris danfordiae blossoms appear just a wee bit earlier, and has been blooming for a couple of weeks in the Roads Water-Smart Garden and has not emerged in the All-America Selections Garden. This is quite fascinating since both locations are in full sun.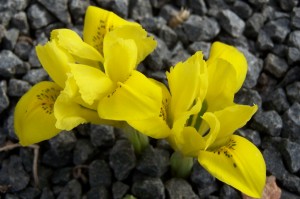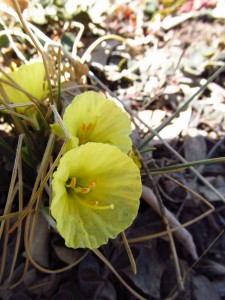 Another unique beauty is Narcissus romieuxii 'Julia Jane', located along Josephine Street. This daffodil begins an amazing display of blooms throughout the spring in this particular garden.  The collector of Narcissus romieuxii 'Julia Jane' is the late J.C Archibald, and he named this early blooming-daffodil after his daughter, Julia Jane.
This time of a year is a delight to explore and experience the textures and colors of a variety of perennials. Favorite perennials to check out this time of year are the Sedums, Delosperma, Helleborus and of course, the multitude of emerging bulbs.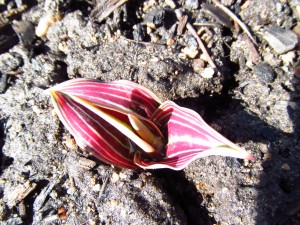 Shown here is the delightful Tulipa 'Fire of Love', which demonstrates amazing variation and color in the leaves. This tulip will bloom a bright red in the next month or so.
For additional bulb gazing opportunities: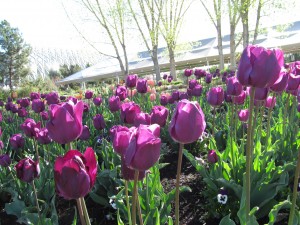 Check out the Orangery display which is a mix of Pelargoniums and forced bulbs to drool over.
Explore an array of emerging bulbs in Mordecai Children's Garden. This 3-acre site has thousands of bulbs to awe any age.