Every year I remind myself to plant another oak: most ashes, maples, elms and the other rabble that make up the Denver urban forest have mostly lost their leaves, but oaks, mountain ash and various pears are ablaze with purples, reds and yellows still. If we only planted more of these, Denver would be as glorious in November as it is in October (our fall color is almost always superb if you haven't noticed). And of all the oaks--which most tree enthusiasts agree are the royalty of hardy trees--I think the Buckley oak (Quercus buckleyi) may be the best of that magnificent genus of trees for Denver.
Why would I make a claim like this? Year in, year out, for twenty years now, I have watched the Buckley oak I am writing about literally soar into the sky and blaze each autumn like a bonfire of red. It has not been watered once since it was planted almost a quarter century ago. What other tree can you name that is as sturdy as this oak, that has such a fabulous shape, will not get too big but grows quickly and thrives without supplemental irrigation in Denver? This native of West Texas is unfazed by summer heat or extended drought.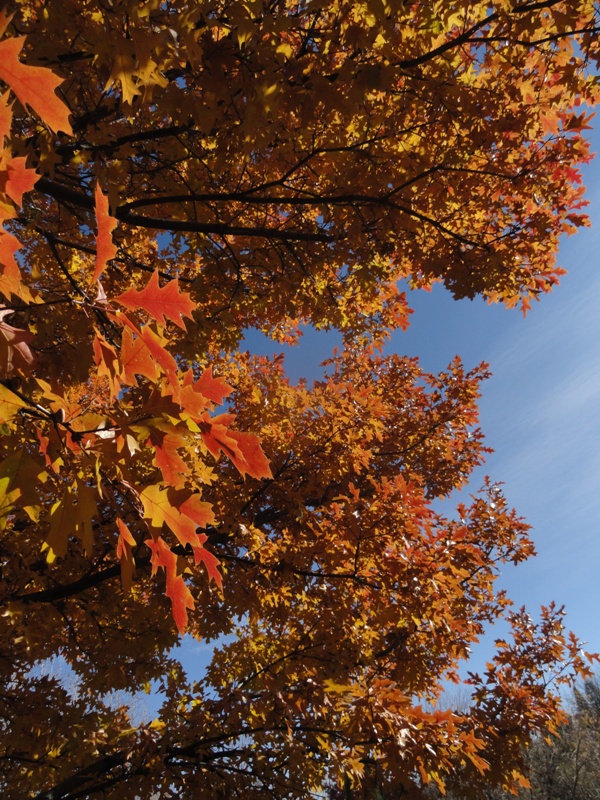 Pictures simply cannot capture the wonderful russet-scarlet-orange magnificence of the leaves throughout all of November. They cling on the tree for much of the winter, making a gorgeous presence until spring. Sadly, I do not know a single nursery in the Denver area that sells Buckley oak. One or two occasionally stock them, but they have discontinued: no demand.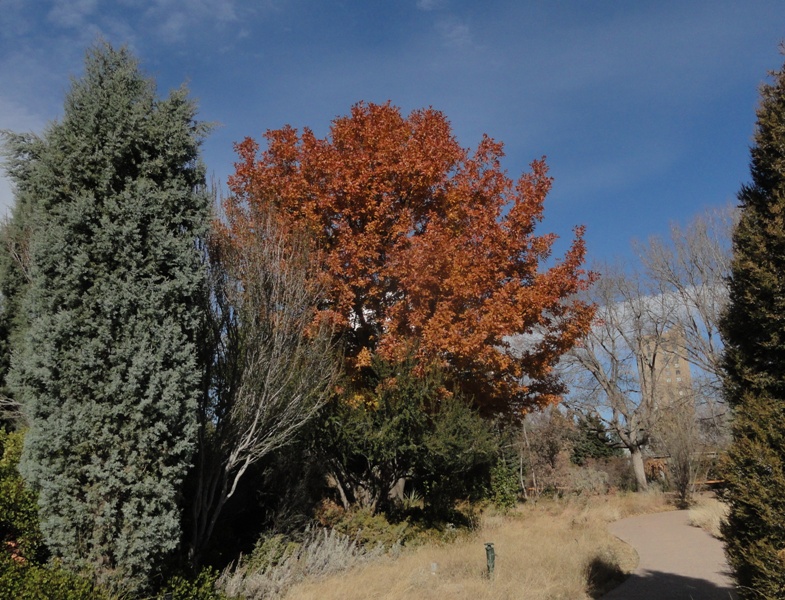 There is something sad about this: the best tree in the world. And you can't have it! Nya nya! Is that mean or what? Actually, you CAN have Buckley oak if you work at it. This is a very popular landscape plant throughout Texas. For years I drove to Texas for Thanksgiving with my late in-laws. Amarillo, Lubbock and Sweetwater would be filled with wonderful big Shumard and Buckley oaks that made driving through these towns a pleasure this time of year. And every garden center in these cities (and elsewhere in Texas too) sells Shumard and Buckley oaks very cheaply. So take a road trip to Texas with a truck some day and load up!
And you can occasionally find these in Colorado as well (pester your local nurseryman--they may order one for you if you make a nuisance of yourself). Shumard oak (Quercus shumardii) is closely related to Buckley oak, coming from a tad further east in Texas, it seems to need a bit more water and can grow to incredible heights (our state champion tree at the Gardens is nearly 100' tall). I finish with a picture of my own Shumard,(all these pix, by the way, were just taken the last few days)...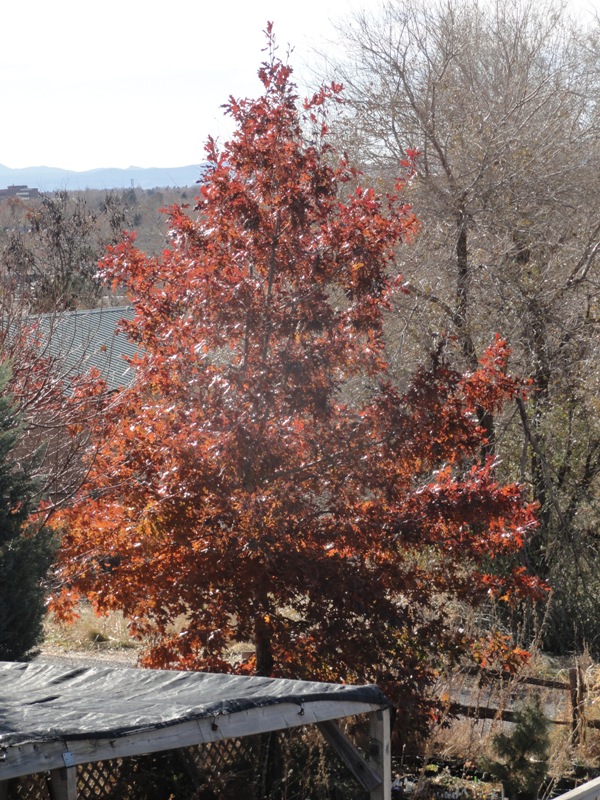 Shumard oak seems to be a bit more purple red than Buckley in my experience, and grows every bit as quickly. Mine is easily over 20' tall, and less than 15 years old. I got this specimen locally, so there is hope!
So Denver, please go out there and create a ruckus for Buckley and Shumard oaks! As little kids demonstrate every day, if we make enough racket they will have to give them to us!