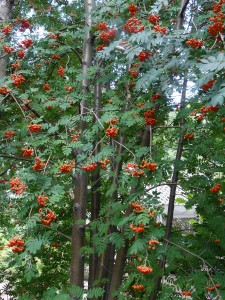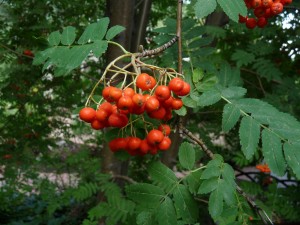 This mountain ash had visitors stopping and staring and then asking "What is THAT?" yesterday. It is a slow-growing tree  and according to Michael Dirr in his Manual of Woody Landscape Plants,
"Upright with strongly ascending branches, dark green leaves, good large sealing wax red fruits..." 
I like the clump form with multiple glossy gray trunks which are also stunning in winter after the leaves drop. It flowers in spring with large flat clusters of white flowers up to 5 inches in diameter.  Additionally, with its leaves turning yellow to orange in the autumn, this tree is truly one for all seasons.  Mountain ash can be susceptible to some diseases and pests, such as fireblight which has been affecting other trees in the Gardens this year, but this one has remained healthy thus far.
This tree is growing in the Woodland Mosaic garden where you can see many plants ideal for a shady garden area such as hosta, coral bells, snowberry, ferns, viburnums and many more.  We also witnessed hummingbirds buzzing around Woodland Mosaic, making it an even better spot to sit for a bit and relax before heading onward to see more of the Gardens. Enjoy your visit, be it actual or just virtual!