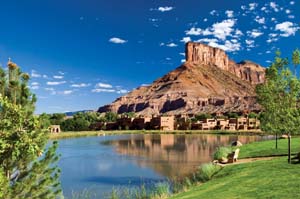 OPEN FOR EVERYBODY -
both for the DEDICATED ILLUSTRATOR and for the DEVOTED AMATEUR
South of Grand Junction, west of Aspen, north of Telluride and east of Moab where West Creek and the Dolores River meet is Palisade and Gateway Canyons Resort. This treasure is only a few miles from Utah border, surrounded by red sandstones and over 300 million year-old Triassic layers, and extremely diverse flora with many different ecosystems.
Denver Botanic Gardens' Botanical Art and Illustration program is pleased to offer selected classes at Gateway Canyons Resort, Gateway, CO during 2010. Have a closer look at our program by clicking here.
Register for:
1. Artist's Visual Journal
2. Botanical landscapes
EXPLORE COLORADO's CANYONLAND - EVERYBODY IS WELCOME!!
(How to get to Gateway, CO)
(More photos from Gateway Canyons, taken in March 2010)