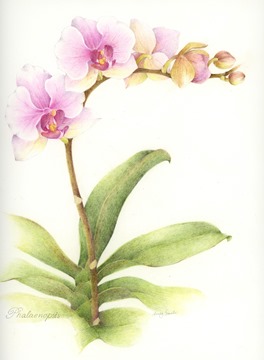 Phalaenopsis by S. Issanti
Denver Botanic Gardens has transformed utterly over the many decades that I have worked and visited here--but perhaps no facet of the Gardens has surprised me more than the extraordinary success of our Botanical Illustrations program. I remember that when I first began to work here, a few artists could be seen out in the Gardens painting flowers now and again. Carolyn Crawford--who has become recognized nationally--painted many plants in the Rock Alpine Garden: my vivid introduction to botanical illustration. Jan Wingate, who was for decades the only taxonomist on staff, had taught some sort sessions on microscopic illustration. The first class on Botanical Illustration was taught in October of 1979 by Ann Cunningham. Angela Overy is credited for really formalizing the program at the Gardens: she and Rob Proctor taught botanical illustration regularly through the 1980's, and in 1990 Angela established the Botanical Illustration Certificate Program--the first of its kind worldwide.
In 2000, leadership was passed to Susan Fisher, MFA. She evolved the program to meet the needs of students who wanted to pursue botanical art and illustration professionally. Susan Rubin managed the program in 2006, and in January 2007, Mervi Hjelmroos-Koski Ph.D., D.Sc. became the director, and continues to spearhead and drive this incredibly popular and successful program.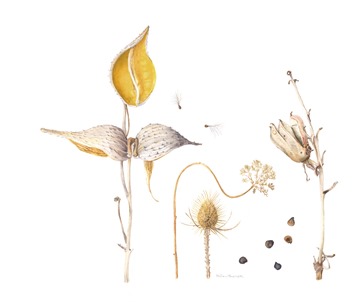 Winter wild by H. Smithwick
In recent years, the Botanical Illustration Program has gained international recognition. It continues to evolve, employing traditional tools while engaging modern methods of computer art, blogging and electronic communication. This dynamism allows the program to sustain a critical mass of relevancy and energy to keep it moving forward.
In addition to the on-site botanical illustration curriculum at York Street, a distance learning program was initiated in 2011 to combine classroom participation with remote online learning opportunities.
In 2009, the program was launched at the Botanical Garden of El Charce del Ingenio in San Miguel de Allende, Guanajuato, Mexco, and number of students there has been growing steadily. In 2011 an inaugural Botanical Arts and Archives tour outside the United States was made, providing an additional opportunity to study global botanical art, science and historical documentation. This annual travel program continues to gain popularity. In 2012, the first Sydney Parkinson Award was presented to a Botanical Illustration graduate in recognition of excellence in botanical documentation.
2013 has been groundbreaking in many respects: to better reflect the rigor and quality of teaching within the program, it was renamed the School of Botanical Art and Illustration. The Botanical Art and Illustration Certificate of Completion was renamed the Foundational Certificate in Botanical Art and Illustration, and the Diploma Program in Botanical Illustration was established. The Diploma Program opens our doors to students who have earned the basic scientific illustration skills outside the School of Botanical Art and Illustration. It will also provide a deeper understanding of any medium and offer on-the-job experience through its supervised independent study as a scientific/botanical illustrator. This year courses were initiated at Yampa River Botanic Park in Steamboat Springs as well.
The curriculum at the School of Botanical Art and Illustration at Denver Botanic Gardens contributes to an art form that blends scientific exactitutde with creative self-expression. It provides a comprehensive course of study, offering the drawing and painting skills required to render accurate and useful depictions of the plant world, fungi and related subjects such as pollinators. Beginning and advanced coursework in graphite (including carbon dust and polycarbonate pencil), colored pencil, pen and ink (including both technical pen and traditional quill) and water media (watercolor, transparent acrylics, egg tempura and gouache) provides a deep understanding of illustration techniques. Courses in botany, microscopic techniques, perspective, color theory, color-mixing, color-layering and composition prepare the students for the demands of science. The curriculum has recently expanded to include training in clayboard/scratchboard calligraphy, bookbinding and silk shading.
The original program was a rigorous ine year course of study. Today, students have five years to complete the required and elective coursework for the Foundational Certificate. After completion, students prepare for the portfolio review. The portfolio for the Foundational Certificate is comprised of five pieces, one in each of the four core media taught and the fifth in a medium of the artist's choice. Upon passing the review, students are awarded the Foundation Certificate of Completion for Botanical Art and Illustration.
In addition to students studying for a foundational certification or advanced diploma, many other students take classes simply for the joy of painting nature, or learning techniques that can be applied to any subject matter.
As 2013 comes to a close, the School of Botanical Art and Illustration has also been generously offered a Challenge grant. For every new dollar donated to the School of Botanical art and Illustration, between today and December 30, 2013 a generous donor has agreed to match your gift. Funds will go to the classroom, mainly to resurface the drafting tables which now after six years of heavy usage are really in need of an overhaul. This is a great opportunity to enhance the School's resources. The timing is perfect and your gift will be fully tax deductible as allowed by law.
You can transfer your gift in two ways:
    a. Process your secure gift online by clicking here or following the link:
https://flourish.botanicgardens.org/sslpage.aspx?pid=298&Delivery ChannelID=23b56292-0f3c-43ac-af%E2%80%A6
Select "School of Botanical Art and Illustration" from the designation drop-down menu
   b. Or simply call the Gardens' Director of Development, Johanna Kelly at 720-986-3517
Whatever you do, be sure to drop by the El Pomar room across from Offshoots Bistro and enjoy the wonderful artwork of this year's graduating class!
(Thanks to Mervi Hjelmroos-Koski, Ph.D., D. Sc., for providing and proofing the information contained herein)...