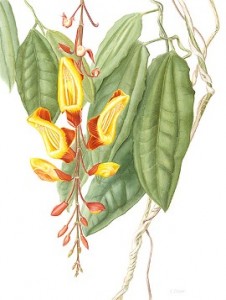 Artworks from the Gardens' Botanical Illustration Certificate Program are being featured in an offsite exhibition at Republic Plaza in Botanica Spectaculum II, in Celebration of Earth Day. The show includes botanical-themed works from 22 local artists, curated by Andra Archer, and 17 works from students and instructors of the Botanical Illustration program, curated by Mervi Hjelmroos-Koski, Manager of Botanical Art & Illustration.
Join the artists at an opening reception at Republic Plaza on Friday, March 18, 2011, 5:30 - 7:30 p.m.

Botanica Spectaculum is presented by Brookfield and produced by the Archer Concept Group.  The exhibit will be on display from March 17 – May 18, 2011 at Republic Plaza.
Monday - Friday 8 a.m. –  6 p.m.; Saturdays 9 a.m. – 2 p.m.
Republic Plaza: 370 17th Street, Denver, CO 80202
For additional exhibition info contact The Archer Concept Group: 303-514-8182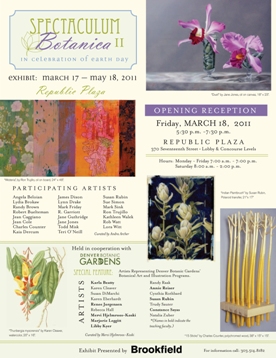 Exhibit-related programs at Republic Plaza, sponsored by Denver Botanic Gardens:
Talk (FREE): "Natural Science and the Trade of Botanical Illustration" by Mervi Hjelmroos-Koski. Ph.D., D.Sc., Manager of Denver Botanic Gardens Art and Illustration Certificate Program
Thursday, April 21, 2011, 12 p.m. in the Lobby of Republic Plaza
Demonstration (FREE): "Botanical Illustration - How To" by Botanical Illustration instructor and artist, Renee Jorgensen
Thursday, May 12, 2011, 12 p.m. in "The Art Room", Concourse Level of Republic Plaza