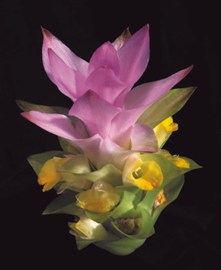 Anything about Magnificent Botany is bound to get my attention, so it was with great joy that I realized that the publication of this stunning book was bringing Dr. W. John Kress to Denver.  He's a curator at the Smithsonian Muesum of Natural History, and I'm delighted to hear him speak!  Jonathan Singer, the book's equally famous and remarkable photographer, will also be here and I am eagerly anticipating this Saturday's event .  Mervi Hjelmroos-Koski had a great post about the book on her blog.
My interest is fed by the fact that I've heard Dr. Kress before.  He is a talented scientist with the Smithsonian (see his list of publications!) and has always been terrifically gracious and interested in everyone he meets.  His scientifc passion is the study of the Zingiberales, and the picture above is the plant turmeric, part of that group. 
Here's what the caption in Botanica Magnifica reads:
Plate 164
Curcuma longa L.
Turmeric
Zingiberaceae, Ginger Family
Widely cultivated in Asia
Herb to 3 ft. (1 m) tall, inflorescence to 15 in. (38 cm) tall, flower about ¾ in. (2 cm) long
 
Curcuma longa, which provides the spice turmeric, has been cultivated for thousands of years on the Indian subcontinent and throughout Southeast Asia, including Bangladesh, Sri Lanka, Myanmar, peninsular Malaysia, Thailand, Vietnam, and the Philippines, as well as New Guinea, and parts of Africa and tropical America. The brightly colored spice is produced from the powdered underground stem of the plant. In addition to its use as a flavoring in curries and other food preparations, turmeric is highly prized as a medicinal remedy, an important dye, and for use in religious ceremonies, especially among Hindus. Curcuma longa is a robust herb, and the bracts enclosing the small yellow flowers occur in several color forms, from pure white to green and white to green and pink. The variations can be seen in cultivated areas surrounding villages and households. The origin of turmeric is uncertain, and plants have never been found in a wild state.