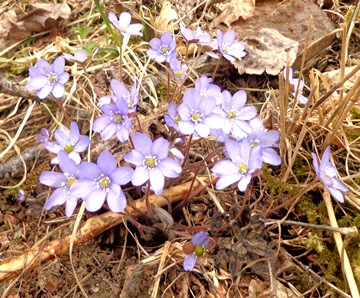 Hepatica nobilis, growing wild in Götene area, Västra Götaland County, Sweden
The genus Hepatica has a fascinating distribution across Eurasia, and again in eastern North America--always growing in rather mature, undisturbed woodlands. The commonest species in much of Europe is this lovely thing, which is in full bloom as I type this in the limestone hills an hour and a half north of Goteborg where I spent Monday exploring a fascinating area with friends from Sweden and Germany.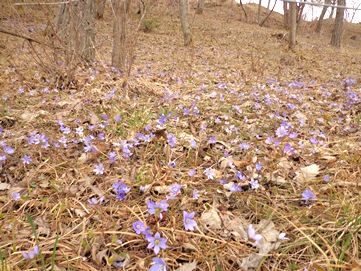 Masses of Hepatica nobilis for acres--mostly bright lavender blue
Of course, we were looking for the brightest blue one, and bright pink ones as well--the variation in flower color was refreshing. What a wonderful way to spend a spring day? This was all a short hike from the country home of Henrik Zetterlund, long time horticulturist at Gothenburg botanic garden.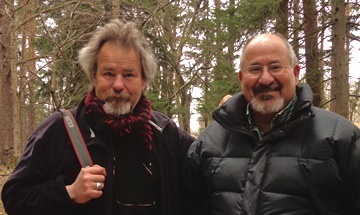 Henrik is on the left and that is my smiling face on the right
I have known Henrik for a very long time--he has visited Denver on several occasions in the past when he was studying and collecting the Rocky Mountain flora. And we have met at regular intervals over the years--in fact, he invited me to come to Gothenburg twenty years ago when the fantastic rock garden at the Gardens there was dedicated. One never has quite enough time with good friends, so this has been a special occasion for me to spend a few precious hours with the giant of European horticulture (there is no one more knowledgeable in the world today as he is about the temperate flora).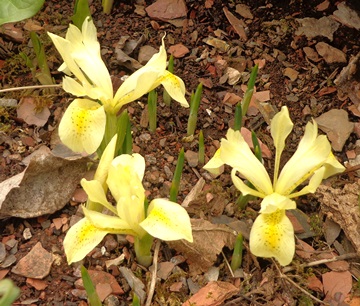 Iris winogradowii in Henrik's garden
I doubt you could find two more contrasting plants than the rare Caucasian iris (above) and the weedy composite (below). The former growing in pride of place in his expansive garden...this yellow reticulate iris is almost extinct in nature, although it has become quite common in bulb catalogues (cheaper each year)...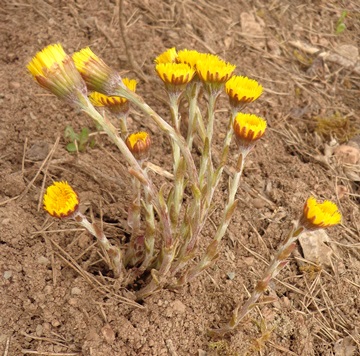 Tussilago fanfara along the road near Henrik's garden
This pesky little daisy pops up everywhere in Sweden, along ditches, in gardens--and the Swedes curse it. We have a healthy patch at Denver Botanic Gardens' herb garden we rather treasure. Although it spreads quickly at the root and by seed--the flowers in early spring are very cheerful (although the massive foliage later creates a problem!)...I am reminded I'd like a little patch of this in my own garden now, to remind me of Sweden!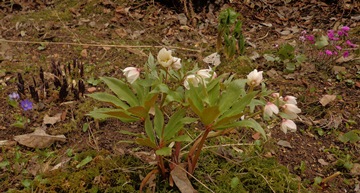 Helleborus thibetanus
Henrik had a lovely patch of the exotic Tibetan hellebore--which we grow in Denver as well. This is the most recently cultivated species in the genus--treasured in gardens everywhere it's grown.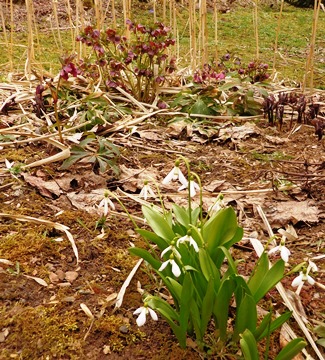 Galanthus plicatus from the Caucasus
There are treasures everywhere in Henrik's acres--mostly grown up from seed he scatters. This giant snowdrop is deliberate however!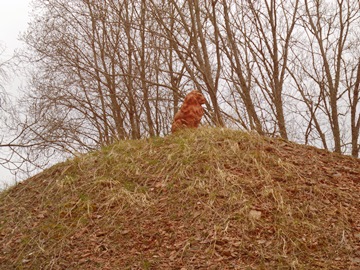 Lion crowning a slag heap at the margins of the garden
Henrik's home is a very picturesque large farmhouse that he's preserved, surrounded by the dramatic workings of a historical industrial site where the nearby limestone was burned into quicklime in lime kilns--there are huge slag heaps of the oil shale waste (the oil shale was burned in the kilns)--and here a ceramic lion is guarding the site (which is now a nature preserve).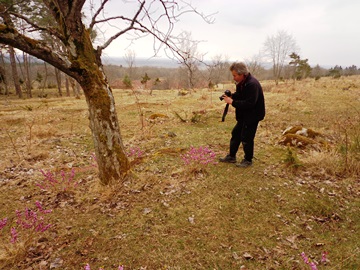 Winter daphne (Daphne mezereum) growing wild in a field nearby
One of the other wildflowers I was thrilled to see was a vigorous stand of this wonderful daphne that I have seen in the high Alps and also in Asia. I grow the white form in my garden, but this rosy lavender dwarf race in Götene is especially beautiful. Perhaps I can persuade Henrik to send a few seeds as a memento?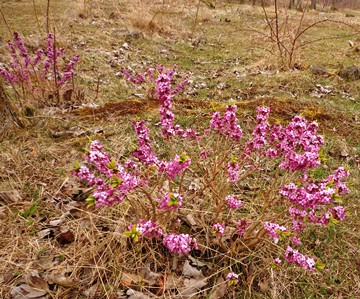 Daphne mezereum closeup at Götene
What a wonderful dwarf shrub! This would sell quickly at a garden center!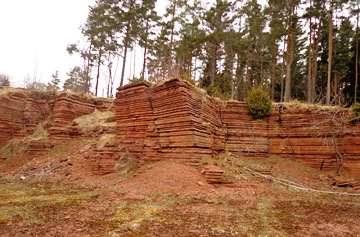 Dramatic limestone outcrops in a quarry nearby--remains from the mining history
Henrik and I chuckled comparing his nearby quarry to a miniature Bryce canyon--what a dramatic historical artifact!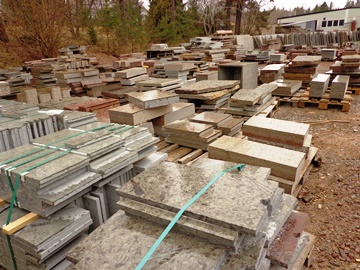 Rock shop nearby on the hill...
There is still an active quarry not far away, and this masonry shop is cutting and selling a wide range of stones for building and landscaping purposes. Many features at Gothenburg botanic gardens were embellished with these gorgeous stones. I was sorely tempted to take a few slabs home with me, but they were a tad heavy (I don't think Brian Vogt would approve the freight cost either....alas!). So I shall take a bevy of sweet memories of a walk in the woods with friends on a perfect spring day in the magical hills of Götene among the hepaticas!
My colleague,Mervi Hjelmroos-Koski, posted this popular Swedish children's poem on my Facebook page when I posted a picture of hepatica:
Blåsippan ute i backarna står,
niger och säger att "nu är det vår".
Barnen de plockar små sipporna glatt,
rusar sen hem under rop och skratt.
The blue hepatica blooms now,
Curtsies and says "spring is here".
Children merrily pick the flowers,
And rush home, laughing.