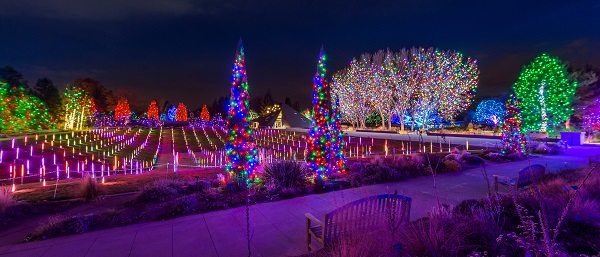 Each year, we enhance the winter wonderland of Blossoms of Light with more lights, new colors and innovative features. But there's a lot more to the event than just the lights! After two record-breaking years of attendance, we spent the better part of this year making changes to the event that will improve our visitor experience for all.
More Time in the Lights!
This year, the Gardens will close each day at 4 p.m., which will allow us to open the doors to Blossoms of Light at 5 p.m. – half an hour earlier than last year.
More Restrooms
In addition to those in the Boettcher Memorial Center and Marnie's Pavilion, the restrooms at The Hive Garden Bistro are now available all year long.
Early Exit Points
Because the Blossoms of Light path is one-way, departing the event early has been a bit of a challenge. This year, we've added three early-exit opportunities to guests who need to leave the path for any reason.
Ticketing Changes
Limited tickets each night will help us avoid over-crowding. While this does mean that our visitors will need to plan a little farther in advance, it should make even our busiest evenings feel less crowded. In addition, door pricing offers visitors an extra incentive for purchasing in advance – tickets are $5 less than if you purchase at the door the night you attend!
Skip the Parking Hassle
We've partnered with Lyft to offer Blossoms of Light visitors two different discounts. New users save $5 off their first three rides with code GARDENS17. Existing users save 20 percent on a single ride to or from the Gardens with code BOL2017. And don't forget: the Gardens is easily accessible by two RTD bus lines, has several Car2Go spots (for the smaller smart fortwo cars) and has a B-Cycle station just outside the main entrance.
Got a Question? Drop us a line!
Send us an email at info@botanicgardens.org or call us 720-865-3500 if you have any questions about the event or your tickets.
Blossoms of Light is open 5-9 p.m. every night from November 24 - January 1. Advance reservations are highly recommended: purchase in advance for the best price and to ensure admittance on your desired date. Get your tickets today!