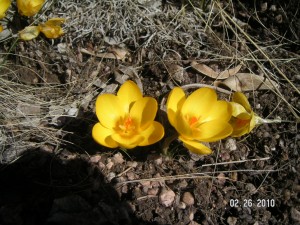 I checked my gardening journal this week. (I start each spring with good intentions, but writing in the journal occurs in inverse proportion to the amount of work that needs to be done in the garden!) I have been imagining that this winter has been longer and colder than recent winters. I wanted to verify that perception, using my crocus-o-meter. Well, it turns out that in 2005, I spotted the first yellow crocus (in my own garden) on March 1st. During the next four years, however, in spite of the fact that some years have been warmer and some colder, some snowier and some drier, the first yellow crocuses consistently opened on either February 22nd or 24th! This year, the 24th came and went without a single backyard crocus opening. They are poking out and ready, but waiting for a day or two of warm sunshine. So I guess we are justified in thinking that winter is dragging on a bit this year…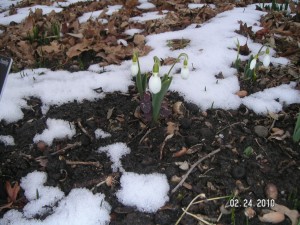 • Although you're all welcome to come crocus-spotting at my house, here at the Gardens, you'll see plenty of signs of life this week. Find snowdrops in the Oak Grove and at the very western end of the Gardens, along the Cheesman fence.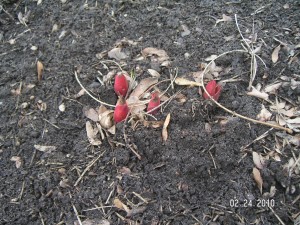 • See bright red peony shoots poking up in June's Plantasia.
• Tulip leaves, especially the smaller species tulips, can be seen all over the place.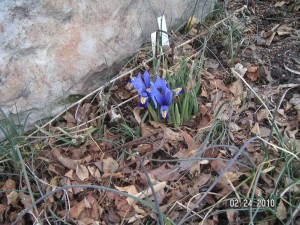 • Tiny blue Iris reticulata are making an appearance in the Rock Alpine Garden.
• And we have our own yellow crocuses (croci?) a-blooming here and there, most notably in the Water Smart Garden.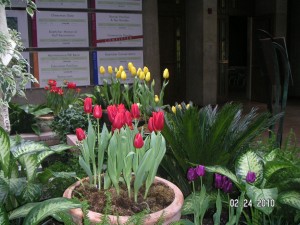 • Of course, if you can't wait for those tulips to bloom, don't miss the lobby display, with its hopeful and colorful glimpse of Spring.