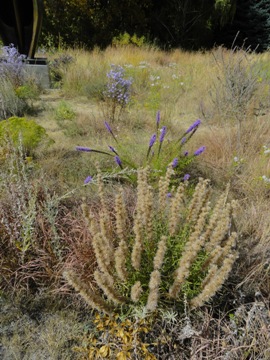 Years ago, Dan Johnson (Assistant Director of Horticulture, and designer extraordinaire) pointed out to me that there was one plant of our native prairie blazing star that always bloomed a month or more after the others.You can see our anomalous Liatris punctata leaning this way and that trying to catch your attention behind that fluffy cousin in full seed in front of it.
Ain't nature grand? What genetic fluke has made this one plant (different in all sorts of subtle ways, incidentally) delay bloom so long into the autumn? This miraculous fall is going on so long without frost that perhaps this year we will get some seed on our tardy plant and develop a whole strain of stragglers - procrastinators - practically becoming a new species before our eyes!
I identify with our plant...I'm something of a late bloomer! I too cling to the waning of the year, denying winter. I love the growing season and the sun, and rue the dying down of foliage (no matter how much Marcia Tatroe tells me that winter is beautiful and wonderful...harrrummmph!). "Give me a beaker full of the warm South!" as John Keats said, "...with beaded bubbles winking at the rim, and purple stained mouth...".
Although the Keats poem you should read right now is "Ode to Autumn" ;  I have it memorized and as I tread the magical precincts of York Street gardens nowadays, I often have it humming gently in my brain - "Season of mists..."
Plains Garden, October 10, 2010
Each of the dozens of gardens right now glistens and glimmers with that late season bounty that suggests to many of us that this is indeed the loveliest of seasons. As the conflagration of autumn leaves joins the last blazing flowers of the year, the Rembrandtian colors of late autumn truly out paint the Giotto tints of spring. "Remembrance, like Rembrandt, is dark but festive" says Vladimir Nabokov, and I agree!
And my walks inevitably lead back to the Plains Garden at the west end of Denver Botanic Gardens, arguably our greatest garden. Here the Gardens has restored an acre very much like what might have been growing originally, giving back the the land (as it were) in reference to yet another great poem, this one by Robert Frost. The symphony of prairie grasses, the tawny little bluestem buffeting against the blond blue gramma, the stippled charm of buffalo grass, the waving wands of Turkey foot and the bright purple spears of blazing star...there is such movement and majesty in our native landscape - why on earth are we pouring millions of gallons on water demanding landscapes when we could have something so infinitely more beautiful, utterly carefree once established and tough as nails? The last three rainless months only made the prairie glow with greater beauty.
Aaaaah. If only like the bees I could be lulled into thinking warm days will never cease!