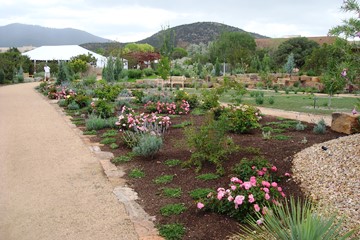 Orchard garden at Santa Fe Botanical Garden
When I was a "Mid-Century Modern" child growing up in Boulder, there were virtually no botanic gardens between the Mississippi River and California (if one can conveniently disregard Texas)...One of the delightful phenomena that has accompanied my maturation has been to watch dozens of botanic gardens spring up throughout the West--in just about every state--including a half dozen in Colorado alone. I have been privileged to have had a minor role in a few of these: I was the first person to speak to the newly organized Friends of the Albuquerque botanic garden when their garden was just a gleam in a few visionaries' eyes. I likewise spoke to the Vail Town Council in September of 1983, arguing for the economic and aesthetic benefits of the Betty Ford Alpine Garden, long before that garden gained traction. I have fretted with many Santa Feans on the sidelines for decades while their dream of having a proper botanic garden in that cultivated capital city of New Mexico seemed to languish. This past weekend, however, saw the proper dedication of Santa Fe Botanical Garden.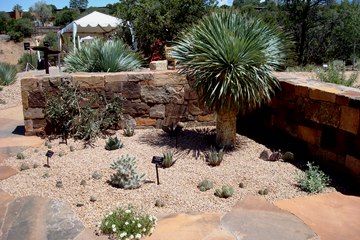 Succulent courtyard
The first phase of construction of what promises to be an exquisitely beautiful garden was dedicated this past weekend. There is an expansive orchard garden near the entrance, with smaller enclaves, including this delightful courtyard filled with succulents, and many other feautures--demonstrating the great beauty that one can create with low water and primarily native plants. This garden is sure to be a great source of inspiration and education to the citizens of the city and visitors--helping to interpret the rich biodiversity of this meeting point of Holarctic, boreal flora and the incredibly rich Madrean flora of Mexico proper (not to mention the Great Plains to the east and the Californian province which has outposts reaching nearby: the easternmost Manzanitas, after all, grow wild just a few miles from Santa Fe (Arctostaphylos pungens).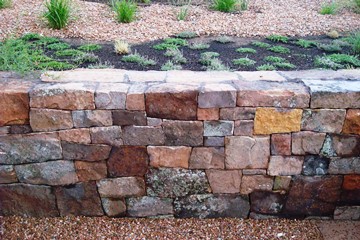 Meticulous masonry
As one would expect, all the plants included were in wonderful health--and the best selections available. And the hardscape featured great artistry--I was particularly impressed with the meticulous masonry displayed in the many walls and rock features throughout this first phase, all native sandstone rock constructed by local artisans. This is already living museum worthy of the wonderful neighboring museums on Museum Hill!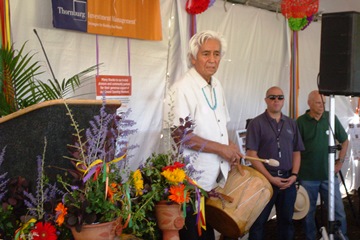 Larry Littlebird of Santa Dominguez Pueblo
I was privileged to follow Larry Littlebird, who gave a moving blessing to this fledgling garden, summoning the spirits of the four cardinal directions and providing a powerful bond to the native peoples, whose traditions and deep knowledge of the native flora will be a theme played out throughout the garden: the second phase is planned to be an "ethnobotanical garden": they might take a page from Denver and just call it Sacred Earth, our own wonderful tribute to native peoples and traditions.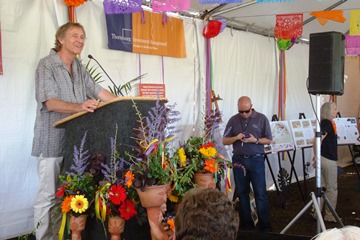 Gary Smith, designer of the garden
My fifteen minutes of fame were followed by an inspiring address by the Gardens' Architect, Gary Smith--who has designed numerous gardens across the United States. I have known Gary a number of years, and I have been impressed with his powerful expressiveness as well as his obvious talents as a designer and plantsman. He revels in the community of people that Gardens call forth, and seeks in his art to create "numinous places"--spots where divine spirits are summoned by the the magic of space, plants and the weather. I have no doubt that Santa Fe Botanic Garden will be precisely such a numinous place--due in large part to Gary's powerful vision.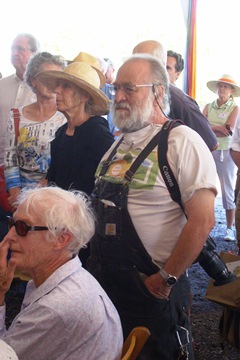 Bob Pennington
It was wonderful to see so many friends, chief among them being Bob and Jeanie Pennington, the owners of Agua Fria Nursery, one of my favorite nurseries where you can find all manner of native and xeric plants. Bob is one of the original dreamers who laid the groundwork for this Garden--his dream goes back forty years. You can imagine how happy he was to see this day!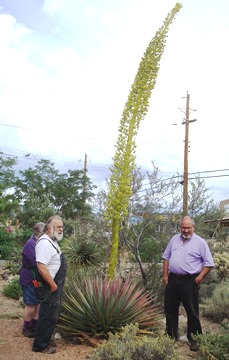 Kaibab agave at Agua Fria
After the festivities died down, We had to make our way to Agua Fria for several reasons. Of course, I had to see the giant stalk on Agave utahensis var. kaibabensis that was still in bloom i  the Pennington's garden. (I'd been following the progress of the stalk on Bob's Facebook page for weeks!). And of course, I had to buy a flat full of treasures, including a penstemon altogether new to me (Bob and I have both been presidents of the American Penstemon Society--an august and select body of people that!)...
I can already envision the day when I shall visit the Santa Fe Botanical Garden when IT will be chockablock full of agaves in bloom, not to mention the numerous stunning beaked Yuccas (Yucca rostrata) which already feature prominently: these will likely begin their phantasmagorical blossoming in the next year or two. Yes. I shall be back for those for sure! Bravo, Santa Fe! Your garden will be an inspiration to all of us!
Photography by Jan Fahs