We had a busy morning yesterday meeting with David Coleman, Dave French and Tom Whittaker of Bridgeline (our amazing interactive Web agency). Robin Doerr and I talked with them about creating a refresh of our home page and we also saw some inspiring comps for the February redesign of our blog. After that fun and creative session, I was so energized that I stopped by The Shop at the Gardens (located in our Bonfils-Stanton Visitor Center) to check out the huge sale in progress.  I was greeted by a display highlighting tons of great deals!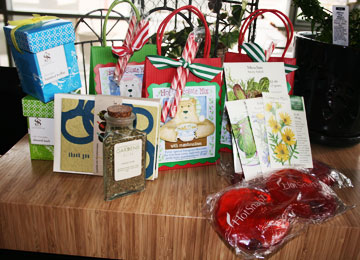 All of the holiday food items are 75 percent off, so I picked up a few bags of my new favorite hot chocolate mix—extra-special European chocolate, the very best cocoa, and ooey, gooey, melty mini-marshmallows. Includes peppermint sticks to stir the chocolatey goodness. Originally, each bag (which makes 8 cups) was $9.25. Now only $2.31 per bag! Only 29 cents per cup, plus milk. Sure beats $3.19 per cup of hot chocolate from my local coffee shop! I also picked up some yummy almond bark and hazelnut truffles. Originally $9 per box, marked down to $2.25. There are so many more goodies at 70 percent off, from hot cider to gift baskets. There's still a good selection, however hurry in soon before all the deals are gone. All holiday ornaments are 40 percent off, plus 10 percent more for members, and there are still some beautiful ones left. 
One look toward the back corner of The Shop and my eye was instantly drawn to the racks of seeds. I've already started planning my spring garden, so I picked up some seeds for Sassy Salad Mesclun and Bordeaux Spinach—both cool season crops. I could not resist picking up some native Compass Plant (Silphium laciniatum) seeds—the leaves can be 2-3' long and often stand vertically pointing north and south, giving the plant its common name. Big yellow daisy-like flowers in late summer. Can't wait! The package says fall planting, so I think I'll take a chance and plant them this weekend, because they need 2-4 months of cold weather in order to germinate. The seeds are all from Botanical Interests®—a Broomfield-based seed company that is collaborating with the Gardens, offering a line of native plant seeds at the Gardens' gift shop and at garden centers across America. The selection includes 15 magnificent wildflowers native to Colorado or neighboring states. The packages feature striking paintings created by regional artists trained in our Botanical Illustration program. By purchasing seed of plants featured in our Gardens and following the directions on the packet, you can create an inspirational low-water naturalistic garden design in your home garden. (Excerpts re: Botanical Interests info from the Jan.-Feb. 2009 Gardens member newsletter.)
The last thing to drop in my basket was some Herbal Unsalt. The Gardens Guild blends basil, savory, sage, marjoram, thyme, celery seed, kelp and a touch of love into the most divine seasoning mix. I use it on everything from eggs and pasta to salad and pizza.
As I was checking out, I picked up some hand warmers for my co-worker, Lyn. These hand warmers provide instant heat when activated and are totally reusable—just drop them in boiling water and you can reuse them many times. Only $5 for two. And the deal got even better for Lyn with her 10 percent member discount. 
Free parking, and admission is not required to visit the The Shop at the Gardens. Open seven days a week from 9 a.m.-5 p.m. Drop by The Shop at the Gardens today, pick up some great deals, and start planning for spring!