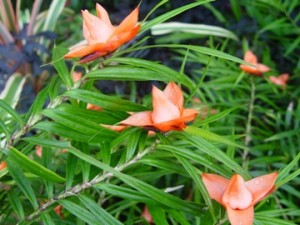 Without a doubt, today was one of those days that the Boettcher Tropical Conservatory really made me take a step back and cherish my "office". The amount of obscure and unique plants in bloom right  is almost overwhelming, and not to mention, some of our fauna have been showing themselves in sunny spots on warm days. That's right, I said fauna, there's more than just flora here!
Before I go into more on our small, green, tropical friends, I need to point out a few must see plants currently in bloom. Firstly, the Brownea ariza that I have previously blogged about, is still stopping visitors in their tracks...be sure to come in while it's still in full bloom. On the far West end of the Boettcher Tropical Conservatory, you will see our glorious Freycinetia cummingiana in full, spectacular bloom. Freycinetia is a genus of around 170 tropical, flowering plants. The genus is mostly found in Southeast Asia and the Pacific and belongs to the Pandanaceae family. The flowers, pictured above, have very showy bracts that hold their color for quite some time, and are thought to be strictly bird and bat pollinated depending on which species of Freycinetia is in question. As the flowers age, the small berries start to appear from inside, and right now ours is just getting to the point where the berries are visible. As always, when meandering through the Boettcher Tropical Conservatory, be on the lookout for all of the blooming bromeliads. The lovely and unique Pitcairnia corralina is blooming just at the top of the steps across from the elevator. Also, be on the lookout for Aechmea mulfordii in bloom just West of the frog tank on the top level.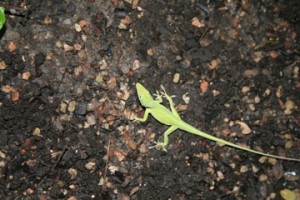 Now, to introduce some of our fauna. Every once in a while as we deem necessary, my team releases Anolis carolinensis, or the green anole lizard into the Boettcher Tropical Conservatory. We like to have them around as they help with insect control as well as add yet another important tropical element to the scenery. Last year we released twenty-five more in the fall, and over the last couple of weeks we have been seeing more and more of them sunning themselves. In order to see them, be sure to look carefully in all of the spots where the sun in shining brightest, and remember, they can change color, so if you see one on a tree trunk it may be more brown than green.
Next time you are here, be sure to keep an eye out for one of our insect-eating friends and enjoy the scenery too. There is always so much to take in on each visit, so be sure to take your time in the Boettcher Tropical Conservatory and enjoy every small intricacy presented to you before you make your way outside to enjoy the beauty of the Gardens awakening for the spring. Cheers!