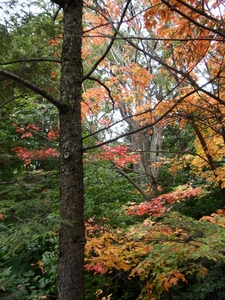 Hello from Montréal where I continue to learn and grow at the Montréal Botanical Garden. The colors of autumn are eclipsing the summer, but who am I to complain? Russet, saffron, burgundy, pink-orange and neon yellow offer an extraordinary beauty and a reminder that everything is cyclical and ever-changing.
Montréal Botanical Garden continues to astound me. My coworkers are welcoming and ever so tolerant of my accent when I speak French. Today at lunch, I was talking about the mountains of Colorado, and my coworkers thought that I was talking about Montana! Now, that made for an unusual conversation. So far, I have worked with people from Haiti, Morocco, Chile, the Ukraine, and Mexico; some of my coworkers even come from Canada. The guests who visit MBG are also patient, and many times they're even grateful that I speak English. Sometimes, I'm relieved, too.
Last week, one of the Volunteers at MGB, Raymond Dufort, who has been a guide at the Garden for fourteen years, showed me a shaded forest in the First Nations Garden where chickadees ate bits of almonds straight from my hand. That was an exhilarating and joyful moment. It pays to spend time with people who know the secret corners of the world.