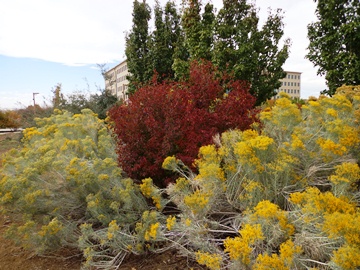 Fall color is one of Colorado's great secrets! Everyone knows New England and the Appalachians have some of the great displays of fall color in the world, and of course the aspen in the Rockies do get their due, but this time of year (and this year in particular) many of the trees and shrubs in the Front Range take on spectacular tints. This last Wednesday I was visiting the Aurora Xeriscape Demonstration garden on Alameda: at six acres this is one of the largest and most ambitious (and best executed) gardens of its kind. I love to drop in on this garden whenever I am in this area, and fall is a particularly stunning time. Among the many spectacular things I found there were this amazing combination of bright burgundy "chokeberry" (Aronia melanocarpa) surrounded by brilliant yellow giant rabbitbrush (Chrysothamnus nauseosus). What a dazzling juxtaposition. Although we have one or two Aronia at DBG, we have nothing as splendid as these robust specimens at Aurora. And nowhere else have I seen such a brilliant coupling of these!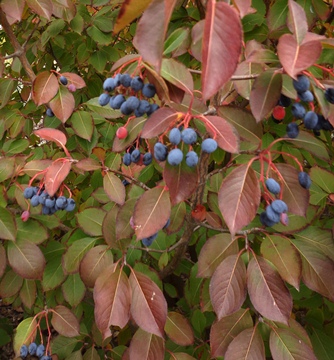 Here is a closer look at the berries and leaves: I hate the common name chokeberry! I tasted these and they weren't half bad! Closely related to mountain ash (Sorbus) this rarely planted shrub is native to the eastern United States, but seems to adapt well to a spot in Denver provided it gets some watering. It is certainly a standout in the fall! A huge industry, much of it fueled by HH Wild Plums in Clarkson Nebraska, has grown up in recent decades propagating, growing and planting Aronia across the northern Hemisphere for fruit production: the fruit are extremely high in antioxidants. Google Aronia and you will see a vast number of websites touting its "neutraceutical" benefits! So there may be several reasons to consider growing a chokeberry in your garden (despite its one pitiful common name: let's think up a better one, don't you think?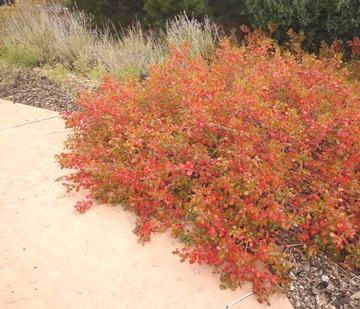 Not only are there magnificent Aronia at Aurora, but one of the most brightly colored threeleaf sumac I have ever seen! The garden has many superbly xeric plants, and is undergoing a real renaissance with its current horticulturists. I'd keep a lookout on this garden the next few years: I have a hunch it will be even more spectacular over time.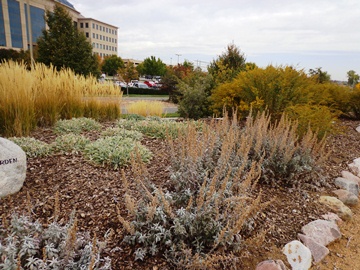 Bold drifts of xeric perennials--here some Artemisia with a Marrubium behind--along with wonderful clumps of grasses throughout make this a garden with four season interest.  Colorado and the mountain west in general have been hotbeds of experimentation with xeric plants for decades. We are blessed with dozens of these ambitious Xeriscape demonstration gardens in most larger municipalities (and some very small ones too!)  Nearly ninety have partnered with Plant Select to help promote the plants that Colorado State University and Denver Botanic Gardens have researched and produced through that program.
I have found the Aurora Xeriscape Demonstration garden on the northwest corner of Alameda Parkway and Chambers Road to be one of the most inspiring: now is a great time to explore there! It is free and open 24/7 after all (so you have no excuse not to go).