Three bins. One choice. Is the item you're holding recyclable, compostable or destined for the land fill?
Denver Botanic Gardens visitors and employees are faced with this choice every day, thanks to our waste separation initiative. Bins all around the Gardens are labeled as either recycling, composting or landfill trash. Though we make a concerted effort to educate our staff and guests as to where their rubbish can reside, it wasn't until Green Team Intern Vivian Blau conducted a thorough waste audit that we really learned how effective our waste sorting efforts have been.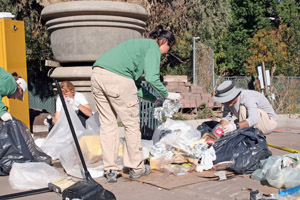 On a recent sunny autumn morning, the Gardens' Green Team conducted a waste audit – sorting through a full 324 pounds of landfill trash, recycling and compostables to determine the efficacy of the waste-separating program. What did a morning of digging through garbage tell us about waste disposal at the Gardens?
Nearly all waste placed in the compost bins is, in fact, compost.
Most (~75%) of the items in the recycling bins are recyclable.
A high percentage of compoastables accidentally get deposited in the landfill trash bins.
Armed with this knowledge, the Gardens will continue striving to ensure that we recycle or compost as much waste as possible. This includes the utensils, cups and containers at Offshoots, which are all compostable!
It doesn't take much to have a positive impact on the environment, be it at the Gardens or at home. Before you throw out your lunch, ask yourself a simple question – "Is this compostable or recyclable?"