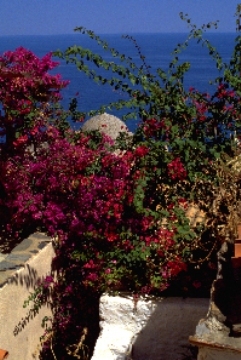 I know I'm a wimp, but my idea of winter is a dacquiri under palm trees! I'm making a point of visiting Blossoms of Light tonight when it's warmish! I am already fantasizing about Greece in the springtime: what could be lovelier than to wander through whitewashed villages with Bougainvillea clambering over the balconies? Thordis Simonsen (who has a home in Greece and has led dozens of trips there) and I are offering a trip to Greece this April at the height of spring bloom.
Mixed ornamental oreganos in my home garden
The Greek landscape in summer can be brown and sere (rather like winter in Colorado!) but the hills are bright green in the winter and spring, and an unbelievable number of wildflowers crowd the fields everywhere. Despite being one of the smaller European countries, Greece has the largest biodiversity (species per acre that is) of any European country: at over 5,500 species discovered so far, Greece has nearly three times the number of native plants than Great Britain! Greece also has the highest concentration of many species of plants essential to our gardens: oreganos, for instance, have their center of distribution in Greece. The picture above shows the wild variation that can occur in a garden when these begin to hybridize and naturalize as they have for me.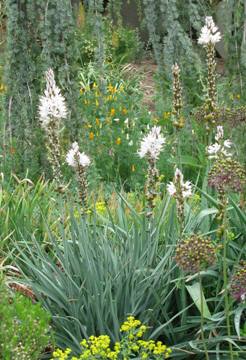 The fields of asphodel in Greece are lovely in spring - and we can grow them in Denver, too. Garden classics from crocus, helleborus, cyclamen, paeonia, tulipa, papaver and more have tremendous representation in the Greek flora, as do dozens of species of beautiful orchids.
I can assure you we will see these, and much charming countryside--check out the details of this trip here. Give Thordis a call at 303-321-5403 to find out more. And do join us for a trip of a lifetime next April!