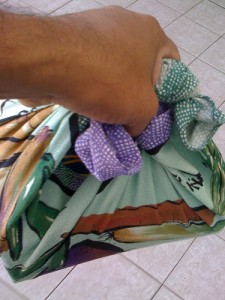 Do you have a myriad of eco-conscious lifestyle tools up your sleeve? The Gardens thinks we may have a new idea for even the most tried-and-true of Denver's eco-conscious population – Furoshiki!
Furoshiki is a near square, reusable "wrapping and carrying cloth" used for centuries in Japan.  Unlike ordinary containers such as boxes, baskets, and bags, Furoshiki changes its shape depending on the object to be wrapped.  It can wrap boxes, bottles, jars, cans, dowels, balls, etc.  It is also used as a shopping bag for groceries and as extra cloths when the weather changes suddenly.  It can also be used for interior decoration.  You would be amazed what one piece of cloth can do in our every day life!
After it is used, it can be folded into a very small size to fit in a pocket or in a small purse, waiting for the next occasion to be used soon. And one of the best outcomes of using Furoshiki is that we can reduce waste and save our precious resources.
Combine style with function in an eco-friendly way by learning the art of Furoshiki wrapping.  Join Kazuko Kozai on Saturday, November 17 (10 am - 12 pm) as she skillfully teaches you a new art to add to your repertoire.  Please bring a box for wrapping to the class (shoe box size works best).  Everyone will receive their own Furoshiki wrapping cloth and instructional booklet to take home.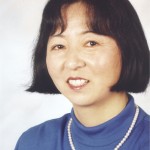 Guest Blogger: Kazuko Kozai
Instructor Kazuko Kozai is a senior professor of Ikenobo Ikebanna School. She was born in Japan, and started using Furoshiki at age five. She is currently teaching Furoshiki workshops enthusiastically in Denver, Colorado Springs and other areas in Colorado.
Image: Courtesy of preetamrai (Flickr)