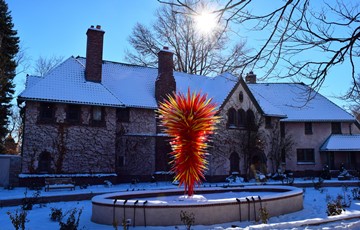 Colorado by Dale Chihuly
It's hard to believe that this was a parking lot a year ago for staff, hidden behind giant conifers. Few visitors even knew the Waring House existed. Thanks to the recently installed Colorado by Dale Chihuly, this has become a destination and another focal point of interest at the Gardens. The spectacular artwork recalls, for me, the form and shape of one of my favorite native plants, the genus Yucca.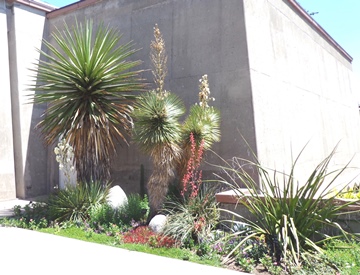 Yuccarama
At the other end of the Romantic Gardens and O'Fallon Perennial Border you can find this wonderful assortment of plants, many of which could have served as models for Colorado! This picture was taken in early July, 2013, when they are just past peak bloom. What makes these woody monocots so wonderful, however, is their sculptural form, and evergreen presence in the winter, as you can see below.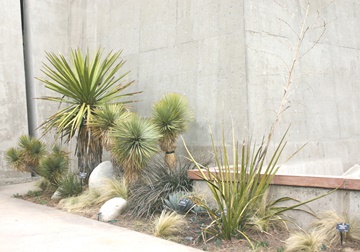 Yuccarama in winter
Here you can see the same cluster of yuccas in midwinter, only eight years earlier! Look how much smaller they all are than in the previous shot. I have written the story of Dan Johnson's acquisition of these before--but it's worth recalling that many of us were convinced these would be the most expensive annuals ever planted here! Needless to say, we were wrong. The largest on the far left is Yucca faxoniana. Yucca thompsoniana is in the middle and on the right is the stately Hesperaloe funifera, from Mexico. I find it incredible that these plants from so far south--West Texas, Nuevo Leon and points southward--have proved so sturdy through our subzero winters. One rarely sees any evidence of freeze damage on any of them.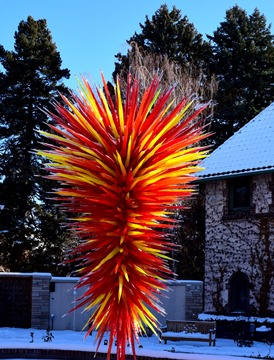 The shape is right, but the color is certainly a form of poetic license--or is it the expression of the brilliant light and color of our native rockscapes and dazzling Western light?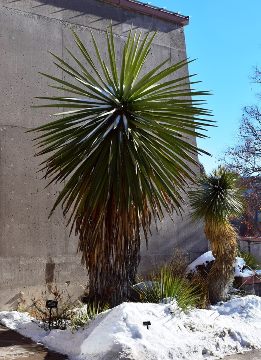 Yucca faxoniana, taken the same day as the picture of Colorado above.
I thought it would be fun for you to compare these two monumental pieces of art, the Chihuly being an expression of nature seen through the prism of cultural history and the quiddity of a renowned artist. The green version is admittedly less colorful (at least when it's not blooming!) but it has two redeeming qualities: it is a living, breathing organism which will grow and change daily, for years--maybe decades--before it dies. And it is the handywork of an artist of another order: you may call her Mother Nature, evolution or maybe just God! Best of all--we can have both worlds here simultaneously, to stimulate our imagination and inspire us!