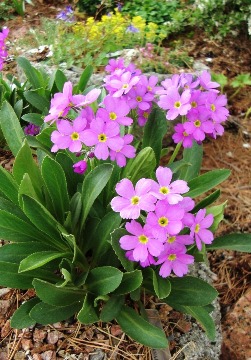 Primula ellisiae from New Mexico--purchased at the Spring Sale a few years ago--a native, alpine toughie for the garden.
I can't think of a better argument for alpine plants in Denver area gardens than this spring. That truly devastating 7F frost a week ago laid many an "ironclad" perennial like peonies, lilies and even daffodils low. However the alpine plants in my garden just loved it. That's the sort of weather they're USED to! Snow? Bring it on! Cold? The more the better! These toughies have earned their stripe this week. Though the next few days are predicted to be snowy, on Saturday come to Mitchell Hall at Denver  Botanic Gardens and you will find a wonderland of beautiful flowers that should be in your garden.
The Rocky Mountain Chapter of the North American Rock Garden Society
presents their
Annual Spring Plant Sale
Saturday, April 20 in Mitchell Hall
9 a.m. - 3 p.m.
Included with admission to the Gardens
May I introduce you to madame Primula, like the one pictured above? All the primroses in my home garden came sailing through the frost last week. Meet the cheerful yellow drabas--that were unfazed.  And Saxifrages (our endemic purple saxifrage from Pikes Peak below in a trough at my house is an example)--these are plants for unpredictable Colorado weather. And there will be a variety of xeric perennials and natives (did I mention that the native gardens were virtually unscathed in the cold--our natives are usually tardy and know just how to duck these seasonal anomalies). See you Saturday! The place to be in the Rocky Mountain region!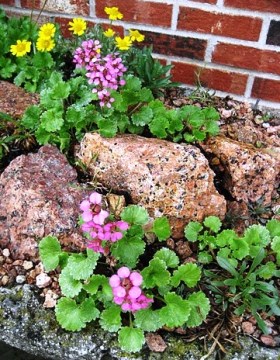 Purple saxifrage (Telesonix jamesii)--endemic to Colorado--here growing happily in a trough at my house