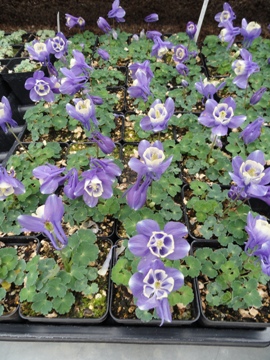 Time: 9:00 a.m. to 3:00 p.m. this Saturday, April 23
Place: Mitchell Hall, Education Building at Denver Botanic Gardens
Who isn't itching to plant things? I was just at Nick's Garden Center in Aurora this past Saturday and saw people with tomatoes and marigolds in their shopping baskets: I had to restrain myself from scolding them...nurserymen do what they can to dissuade people from planting warm weather annuals this early, but the urge is so strong! Wake up, Denver: you can plant cold weather crops now, but nothing loves April planting more than alpine and rock garden plants! These are plants, after all, that have evolved to experience frost almost every night even in summer! Most alpines have a much higher concentration of sugars than lowland plants, which act like antifreeze: you can take an alpine plant straight out of a greenhouse if need be and put it in your garden and it will take frost with equanimity!  The flat of columbines above should still be blooming this weekend: they were grown by the propagation staff at the Gardens, which will have some special offerings...
Toros Veronica (Veronica bombycina var. bolgardaghensis)
This veronica was purchased a few years ago at the sale: it is a perfect example of the little treasures you can find there, this one coming from the high Toros Mountains of southern Turkey: I can travel around the world right in my garden, enjoying the hundreds of wonderful alpine plants I've obtained at this and the Mother's day sale!
Iris attica and Anemone blanda below"]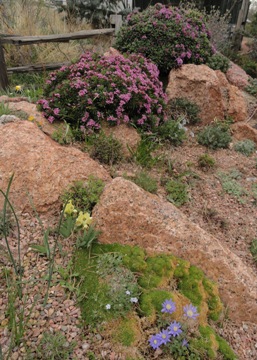 I just took this picture today, Sunday April 17, in my home garden. It's an example of the wonderful vignettes you can create if you have a rock garden. Although these plants will often grow even better in a container like the "troughs" you will see in so many nurseries nowadays.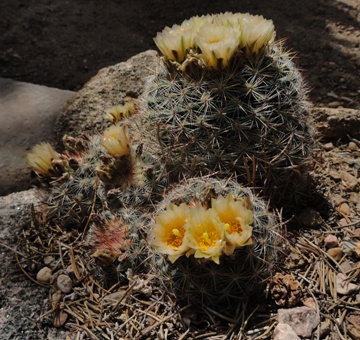 Denver has become a mecca of unusual wildflower offerings at our incredible nurseries and garden centers: Nick's in Aurora even has a large rock garden section featuring an incredible assortment of these gems, and Tagawa's in Southeast metro, Echter's and Timberline in the Northeast part of the city, O'Toole's at several locations and Paulino Gardens all have a good selection of little plants for rock gardens and troughs. But the selection this weekend and at our Mother's day sale in May is so big I have had friends fly in from Massachusetts and Seattle to buy plants at these! We are especially known for our many Xeriscape Plants, and an extraordinary and ever expanding palette of cold hardy cactus, like this mountain ball...
So if you're fingers are itchin' to plant, this sale with a dozen specialty nurseries under the auspices of the Rocky Mountain Chapter of the North American Rock Garden Society is the place to be! Or you can go ahead and plant some sacrificial tomatoes!