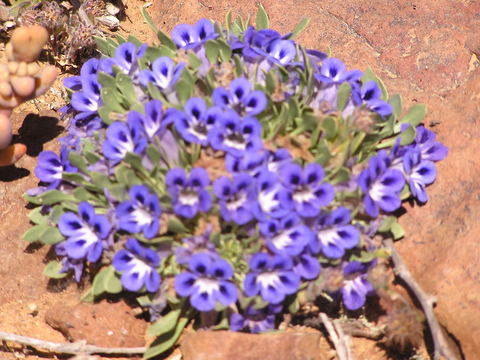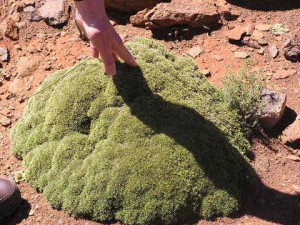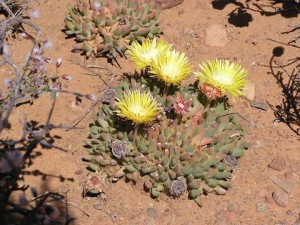 I had such good intentions to blog my way through South Africa, and the five blog entries I managed represented about as many days. The first days. So many places, so little time to type!
Clanwilliam with the enchanting city wildflower garden that had more variety of bloom than many botanic gardens, and the huge Rooibos Tea processing plant next door. Two enchanting nights at Bushman's Kloof--a superlative nature reserve filled with antelope, ostrich, wildflowers and bushman paintings. After that we trekked north to Van Rhynsdorp, the beginning of the fabulous Namaqualand succulent fields (the season was too late for the annuals further north). We visited the largest succulent nursery in the Southern Hemisphere there, "Kokkerboom Qwerkery" with endless lath and glasshouses filled with treasures and the namesake Quiver trees (Aloe dichotoma) and so much more.
We then climbed up the famous Van Rhynsdorp pass to the Bokkeveld Plateau and the charming town of Nieuwoudtville, where a new botanic garden has just been established to preserve the fantastic variety of bulbs that grow hereabouts (more than anywhere else on earth). We glimpsed 300 million year old glacier scrapes amid Lapeirousia, Moraea, Geissorhiza, Romulea, Oxalis and Homeria blooming profusely at the tail end of the spring season: then off to Calvinia, where the pictures above were taken on the slopes of HamTam mountain. Here the season was at its peak, and the karoo violets (Aptosimum) were their most entrancing: Aptosimum indivisum (first picture) was a stunning blue, with a strange resemblance to Penstemon acaulis growing in very similar sites in Utah. There were vegetable sheep of Aptosimum spinescens (second picture) not quite in bloom yet. The dense tufts were definitely somewhat spiny!
Finally we were off to chilly Sutherland ("the ice box of South Africa") where it was very cold and there was even ice in the washbasins in the morning. On the way we saw drifts of many choice ice plants including this incredible yellow Cheiridopsis cigarettifera. I didn't quite see where it bore its cigarettes--botanists can be very imaginitive when they name plants.
We still have the incredible masses of color at the Karoo Botanic Garden in Worcester--the greatest collection of succulents imaginable, all in fabulous hard candy colors, and in full bloom. The fruit orchards thereabouts were in full bloom, providing Europe with apples, pears, cherries and other fruit in late winter, and the beginning of wine country where we revelled for several days at Franschoek, the most quaint and elegant city nestled in the Cape Mountains, surrounded with wineries and gorgeous views. While there we visited the ancient winery at Vergelegen with its immense Camphor trees and lovely gardens, and a day's trek over the pass to visit a Protea farm and have a delicious "braai" (barbeque) next to a waterfall in the Fynbos.
The trip ended on a drive (with visit to Harold Porter Botanic Garden in Betty's bay: the fourth outstanding botanic garden on this trip), ending for several days at Grootbos, an incredibly beautiful and elegant nature reserve with world class facilities and amazing staff, all built with the environment and social justice in view. It would take hundreds of pages to do all these sights justice! The group parted ways after this--some to go on the Thornybush near Kruger Park to see wild animals, and others back to the USA. I had three fabulous days doing research and taking a day's jeep drive to the top of Matroosberg (2nd highest peak of the West Cape) with staff from Kirstenbosch. Thereby hang many more tales!  After 35 hours of airline travel from Cape Town via Johannesburg, Dakar, Washington D.C. (all with waits) I was back in the U.S.A. Whew!
Several days later I am rousing from jet lag only to discover that I have left a big piece of my heart in South Africa. When will I ever get back to retrieve it?
Pictures by Donna Boucher, Tour Participant