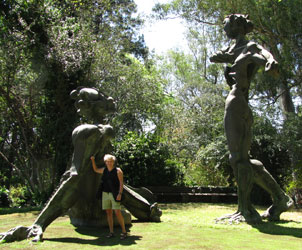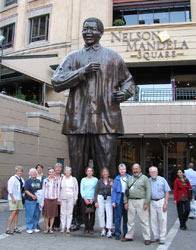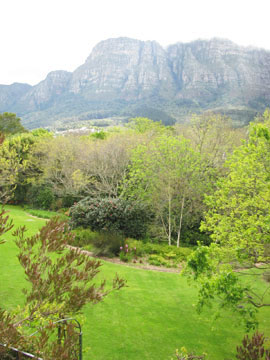 I worried -- why leave North America at the height of late summer, with the veggies overflowing in the garden, the leaves turning...the answer is Africa in springtime. What a glorious time to be here and get a second spring in the same year. Temperatures in Johannesburg and Pretoria were perfect, the days sunny, and flowers overflowing.
In the first picture, Pam Rathke, tour leader extraordinaire, is standing in the midst of a famous grouping of giant statues at the Brenthurst estate, owned by the Oppenheimer family, of DeBeer and Anglo-American corporation fame. Their expansive garden is meticulously maintained by dozens of gardeners, featuring more and more indigenous African plants and eco-friendly practices. The second picture shows the whole tour group of 13 people around the statue of Nelson Mandela at the spectacular Mandela Square in upscale Sandton (400 fabulous shops) so not all our time is spent in gardens. Finally, glimpse the mysterious and gorgeous table mountain view from my guest room at this historic Vineyard Hotel in Newlands, suburb of Cape Town. Tomorrow...Kirstenbosch! We've been here only four days and it feels like a months worth of activities and impressions...ah Africa! Cradle of mankind and garden of Eden....
EDITOR'S NOTE:
Panayoti Kelaidis, a specialist in South African flora, is hosting a South Africa Horticultural tour from September 22-October 8. Visit this blog often to hear about his adventures touring public and private gardens in Johannesburg, Cape Town and the Western Cape, and exploring the Great Karoo Nature Reserve for wildflowers. A post-tour safari near Kruger Park has also been arranged. Experience this floral wonderland with Panayoti.