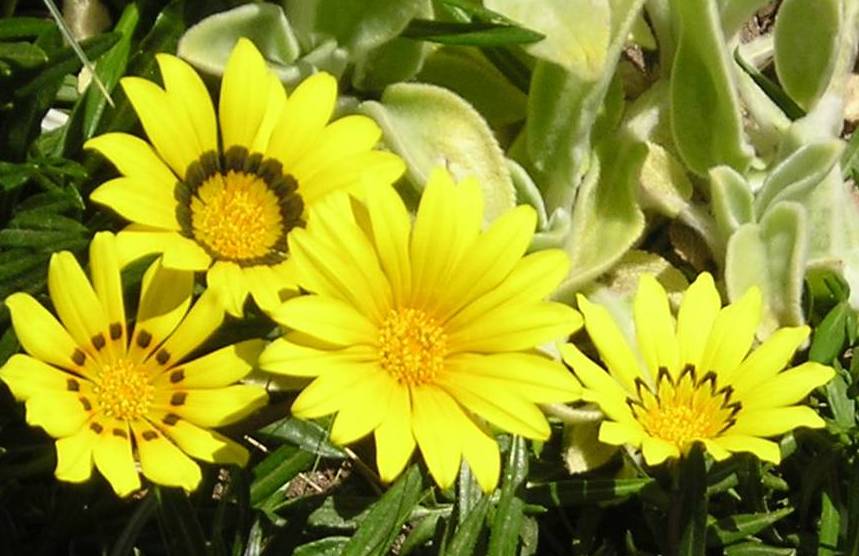 Now that the growing season is winding down, I like to take a long look back at the highlights of the year that's passed: certain groups of plants always seem to stand out as I am labeling my images. The daisy clan are certainly stars in Colorado landscapes, and few daisies have stood out as boldly as the numerous South African daisies we have introduced and popularized at Denver Botanic Gardens. The Aster family is in stiff competition with the Orchids for having the largest number of species of plants worldwide--although there is no question that asters reign supreme in all four Steppe climates (Western North America, South African highveld, Patagonia and the steppes of Eurasia.) They are fascinating up close--like these four different flower forms of the high alpine daisy of the Drakensberg above--and often make a striking picture in the landscape, like the sun daisy below.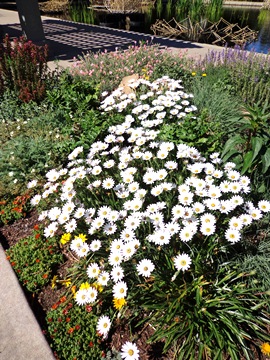 The Chldrens' garden is spectacular most any time, but if you have not visited in late April, May, June you will have missed the shimmering carpets of this 2011 Plant Select winner. It's almost blinding in its whiteness for months on end. But up close the wonderful daisies are just as appealing.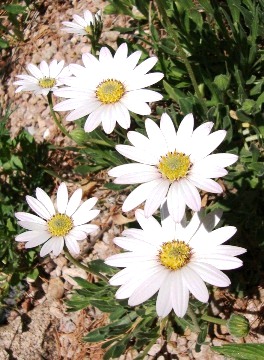 I have posted previously about the wonderful mats of 'Purple Mountain' I found at a nearby bank--but it is instructive to compare the two cultivars next to one another here: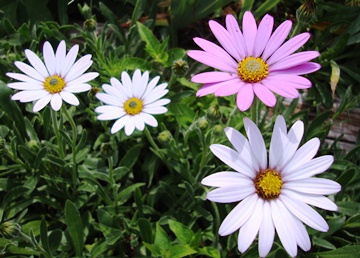 Another star in the Family is the only hardy Arctotis that has been introduced thus far. Arctotis adpressa is quite widespread along the high escarpment of the Karoo from Calvinia all the way to Beaufort West (distant and exotic places which are probably in the height of late spring color as I type this). I first saw this on Hantam mountain almost 20 years ago, and was amazed by its almost metallic, silvery mats of foliage a yard or more across. When this blooms in April it rivets visitors to the Watersmart Garden where Dan Johnson has established a wonderful colony. If this only bloomed a little longer it would be in the first ranks of garden plants (breeders: get working!)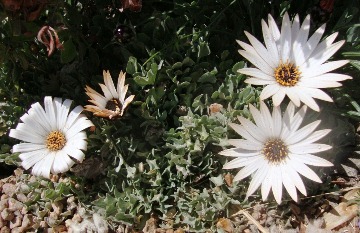 The largest group of South African daisies are the everlastings (Helichrysum): especially in the Drakensberg there's no getting away from these. I have seen five or six species jostling next to one another near Sani Pass in Lesotho. We have grown dozens of species for short periods of time, but this dense mat former on the north side of the Succulent House in the Rock Alpine Garden has proved durable and is spectacular when it blooms over a long spell of the springtime.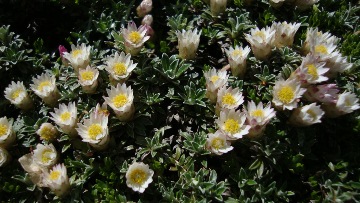 Helichrysum praecurrens forms large mats at the highest elevations in the Drakensberg--wonderful, shiny blue gray mats of dense foliage smothered with these papery white everlastings. I have seen it a dark pink as well--we have not really sampled much diversity in this flora at all, yet! This is slowly making its way into cultivation--I think it will one day become a popular rock garden plant all over the world.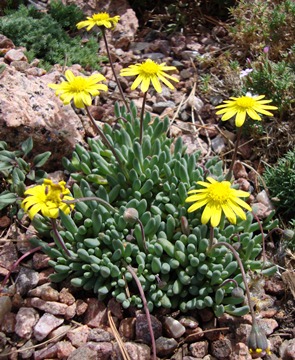 There are so many Asteraceae we have grown over the years: bright pink Senecio and yellow ones too, the silky shrubby Eumorphia, and some very showy Euryops---many, many unusual genera that you will not find in any gardening books--but lovely and so hardy in Colorado gardens. There is no room in this blog to begin to list them all--but I can't resist ending with a very unconventional daisy indeed: the genus Othonna is very popular among succulent collectors right now. There seems to be no end to their highly variable leaf shape and stem form from one species to the next, although the yellow flowers are admittedly rather similar across the genus. But most Othonna are as succulent as jade plants: a peculiar trait for a daisy don't you agree? Most , alas, come from low elevations that experience little frost, but this species is restricted to high, cold mountain slopes and has persisted in Colorado gardens since its introduction. This picture is taken in my home garden where this plant has grown cheerfully for a dozen years or more. The first flowers can start in April, and today, November 18, there are still several fresh flowers on it: now that's what I call a star performer!