Time to celebrate fall: grasses are glowing in the late afternoon light and the leaves are still changing colors all over the Gardens. Come visit Denver Botanic Gardens soon! Every garden has something visual to offer. Or take a walk at Denver Botanic Gardens at Chatfield and enjoy nature and our working farm. Summer is over, and so is the 2013 Summer Concert Series at York Street and Chatfield. Did you make it to most of the concerts or just one? Please read these terrific after-concert reviews from Denver Botanic Gardens members Rick and Sue Ann Hum. And enjoy these stunning photos taken by Kate Battan, another member of the Gardens. Thank you, Rick, Sue Ann and Kate, for these memories of another great summer of concerts. Be sure to check out this wonderful gallery of photos taken by Kate at the Summer Concert Series.
The 2013 Summer Concert Series was hands-down, the best season series ever. The shows were diverse, included old-time favorites, up-and-coming acts, local talent and internationally known gems.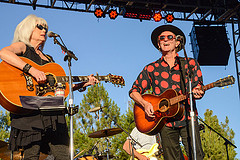 The season started with Emmylou Harris and Rodney Crowell. As the saying goes, the best duet is Emmylou Harris and whoever is with her. Emmylou and Rodney were very well connected. Their guitar styles were nicely complimentary and their vocals superb. The lead guitarist, Australian Jedd Hughes stole the show for many of the songs. As Candace Horgan reported in heyreverb.com, ". . .  much like in the Hot Band, Harris and Crowell were surrounded by strong instrumentalists." What great fun, dancing and partying with friends.
Tony Bennett is an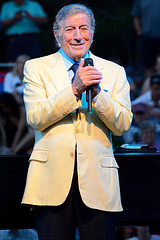 incredible talent with great stage presence and charm. He brought a welcoming lounge act vibe to the Gardens accompanied by his quartet of piano, guitar, bass and drums plus his youngest daughter Antonia Bennett. Tony Bennett can still sing well and does perform with a twinkle in his eye and a little bounce in his step. Antonia sang about four songs with the quartet as a warm-up act and then returned to the stage to sing a duet with her dad.
After a rain delay of more than an hour-and-a-half, the David Byrne & St. Vincent show did go on; and what a show it was. If this wasn't the best concert of the season, it was clearly the most creative, best choreographed and with the most interesting musical arrangements. With a 9-piece band (2 trumpets, 2 trombones, 2 woodwinds, sousaphone, drums and keyboards) behind David Byrne and Annie Clark (a.k.a. St Vincent) the music was fantastic, with more variety than you would think possible. David Byrne is a musical magician and Annie Clark was fantastic with her vocals, guitar playing and stage presence. Well worth the wait and the wet. Their clever exit strategy was to bring on Denver's own itchy-O marching band to totally confuse the audience.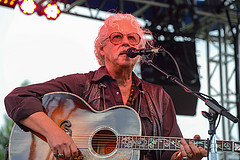 Arlo Guthrie is known for his story telling and he didn't disappoint. The show was on his father's (Woodie Guthrie) 100th celebration of his birth. He told stories about his dad, Leadbelly, Ramblin' Jack Elliot and his own life. Between the stories he did some wonderful guitar and piano playing to accompany his vocals. The Trisha's were a good opening act with wonderful harmony and their own guitar playing. After two previous night's heavy rain, the light drizzle for 5 minutes was a relief. There was even a crescent moon through the thin clouds.
As expected, Bruce Hornsby & the Noisemakers put on a great show. What fun, up-beat, great music; very fitting for a celebration. The Noisemakers were excellent; known for improvisational jams. It was interesting to see how their eyes were glued on Hornsby to see what might happen at any moment. Of course for some of us, this will be a very memorable show.
Steve Martin came out on stage immediately as the show started and he was very much in control of center stage. His prepared and ad-libbed humor added to the great music on stage, especially the comments about the stagehand steadying the 5,000 pounds of speakers when the wind picked-up. Edie Brickell was very good, but was not featured as much as expected. The Steep Canyon Rangers were excellent accompaniment and an act of their own.
The end of July brought what was probably the surprise concert of the summer. Even for those who had seen Elephant Revival, this pairing was an unexpected pleasure. The Carolina Chocolate Drops' cello with fiddle, banjo and other instruments provided a wonderful sound. The audience didn't want to see this incredible opening act go at the end of their set. But Elephant Revival came out and showed they have a very unique and wonderful sound also, especially with Bonnie Paine's washboard and vocals. The evening was topped off with a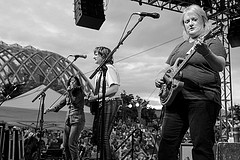 n encore that included both groups, which really delighted the crowd.
The Indigo Girls of course thrilled the audience, who responded by singing the lyrics of many of their songs. Amy Ray seemed to really want to excite the band and did so along with the response of the audience. The warm-up act of von Grey was surprisingly wonderful. What an incredible family of young musicians.
Suzanne Vega played and sang a number of her songs. She is a very interesting songwriter. Bruce Cockburn sang and played wonderfully. It's hard to understand why his work is not as appreciated in this country as it is in Canada. He is a fine songwriter, guitar player and pianist. He got the audience to join him in singing Wondering Where the Lions Are.
Joey Ryan and Kenneth Pattengale (The Milk Carton Kids) provided the best opening act of the season. Their music, guitar playing and voices were outstanding, but it was their humor and stage presence that kept the audience clinging to every word and action. Josh Ritter rocks! The Royal City Band rocks! His followers (who know every word, of every verse, of every song) rock. The show was great fun with the Milk Carton Kids, Josh Ritter and the Royal City Band. It's too bad none of them are cute. This was another of the best shows of the summer.
The gates were held for about 15-20 minutes to let a storm cell pass, once the gates were open, the skies opened as well. Lightning was still visible in the distance when Shawn Colvin took the stage. She said she was glad the rain passed, because she didn't want to have to sing all her "rain songs." Colvin was her typical defacing self, but played wonderfully and sang very well. She also thanked her fans for continuing to support her music. Martin Sexton came on stage and used a great trick to get the audience's attention, by pretending his mic was not working. He not only got the audience's attention; he never lost it. His guitar playing was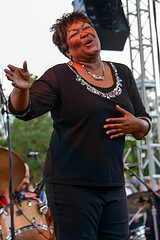 fantastic and with his vocalization of percussion, trumpet and other parts, if you couldn't see the bare stage, you would have thought there were others with him. He played very upbeat music that got the crowd to the dance floor. It was a great, fun show with two very good solo acts.
Hazel Miller Band of Denver was a superb opener for Michael McDonald. She said they wanted to get everyone up and moving to be ready for McDonald. They did that and more. They played a very tight set. Hazel's voice was strong, clean and beautiful. The band highlighted the players in short, but fantastic solos in a few of the songs. Michael McDonald played a long, continuous set with a great mix of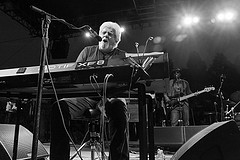 Doobie Brother's favorites; some of the iconic Michael McDonald numbers, and new material. The band played well and seemed to enjoy the atmosphere.
Chris Isaak did the best show he's done at the Gardens, according to many of the people who have seen 3, 4, or more shows. His voice was wonderful. His guitar playing seems to get better and better and his ability to ignite the crowd by moving through the audience stopping at a few places and continuing to sing and play. He even sent his talented, 12-string / 6-string guitar accompanists, Hershel Yatovitz out for a journey through the back half of the audience.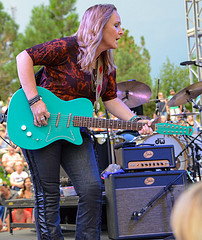 Melissa Etheridge came to play and to rock. Eschewing most of the songs from her new, good 4th Street album, she played music that excited, pleased and got the crowd up and dancing. She played continuously through the show. She would give the band members breaks, playing solos or bringing one of the members back on stage to do various, interesting duets. One duet had four hands on the lead guitar player's guitar; another had Melissa playing cords while her drummer did the "strumming" with his drumsticks. She was energetic and as the recent press indicated, she uncharacteristically played lead guitar with confidence and skill.
We all look forward to more great music at the best venue in the Rocky Mountains.