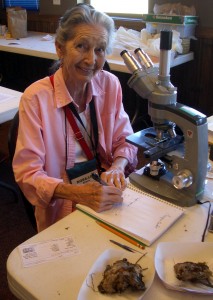 This year has been a banner year for mushrooms.  It seems that over the last several months mushrooms have been popping up everywhere. The moist spring combined with well-timed rains in July and August led to a great year. Well, it couldn't have come at a better time for the North American Mycological Association's annual foray. This year's meeting that was held at the Snow Mountain Ranch, YMCA of the Rockies in Grand County August 12-15 and was attended by more than 200 people - amateurs and experts, alike. The 2010 foray was a success largely due to the efforts of our Curator of the Sam Mitchel Herbarium of Fungi, Vera Evenson, as well as volunteers from the herbarium and members of the Colorado Mycological Society who donated their time and energy to ensure that the foray ran smoothly.
At least 20 of the 276 fleshy mushroom specimens collected during the 3-day event are thought to be new to Colorado. A few of them may even be new to science. While at least two dozen experts in various fungal genera and families were on hand at the annual meeting, the identification of several of the collected mushrooms remains a mystery to mycologists.
Thus, experts around the country, including Vera Evenson (who was one of two chief identifiers at the 50th anniversary foray), are participating in painstaking studies to verify if these mushrooms are indeed newly-discovered species.
All voucher specimens collected during the foray were deposited at The Field Museum in Chicago. A voucher specimen is one which is retained in a museum collection to document the presence of a species at a certain location at a certain point in time. Duplicates of nearly half the specimens will also be accessioned in the Sam Mitchel Herbarium of Fungi. Only well-documented, properly-preserved, and more unusual specimens collected during the foray are retained by the herbarium.
The North American Mycological Association (NAMA) Voucher Collection Project began in 1997, the last time Colorado hosted the event. Vera Evenson, volunteers and friends initiated the project in honor of the late Sam Mitchel, the namesake and longtime volunteer who founded the fungal herbarium at Denver Botanic Gardens.
Since that time, The Field Museum has received thousands of voucher specimens from the annual NAMA forays. Through the annual forays and the vouchering project, mycologists have gained a far better understanding of the mycoflora of the country. Visit the Sam Mitchel Herbarium of Fungi to learn more about fungi collected throughout the Southern Rocky Mountain region.