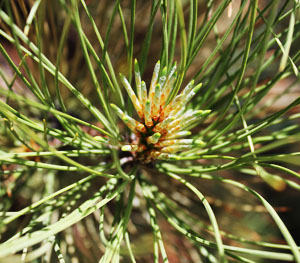 Denver Botanic Gardens has developed a Phenology Trail in Colorado. A Phenology Trail is a network of observation sites, called Phenology Walks. These Walks provide the participant with places to visit, enjoy nature, collect data, and learn about supporting organizations. We plan to partner with other organizations to expand our Trail with additional Walks throughout Colorado, to enable visitors to collect phenology data and learn about native species and the diversity of habitats in our state.
Spring of 2014 featured the opening of our first three Walks, at our York Street, Chatfield, and Mount Goliath locations, with more to follow in future seasons.
Join Denver Botanic Gardens monitoring efforts by reporting your own observation data to USA-NPN. The observations you submit will be part of a national database and freely available to everyone.
Nature's Notebook How-To Information
How to join Nature's Notebook (USA-NPN)
Enter your name and email address, and choose a password.
Agree to Terms of Use, type in shown code, and "Create New Account."
How to join Denver Botanic Gardens group on Nature's Notebook
Log on to Nature's Notebook with your own account.
Go to "My Observation Deck" and in "My Account Details" choose the "Edit" tab.
Under Partner Groups, choose "Botanic Gardens and Arboretums", and check "Denver Botanic Gardens" from the drop-down list. Click "Save" at the bottom of the page. This can also be done at the same time you open your account.
To see which plants are being monitored at each Walk: Go to your "Observation Deck," and under "Sites" click on Denver Botanic Gardens. Choose the Walk of interest and a list of plants for that Walk appears under "My Plants and Animals."
Print datasheets and maps for the Walks on Denver Botanic Gardens' Phenology Trail (here are directions to all sites):
To collect data in other locations than the Phenology Trail, look at the list of tracked species on USA-NPN's website, and download the datasheet with the phenophases specific to that species, along with phenophase descriptions.
Collect data: Using a printed datasheet or a mobile app (see download information below), collect observation data for your chosen species.
Remember: Knowing when a plant is NOT in a given phenophase is just as important as knowing when it IS. Please check Y, N, or ? (uncertain) for ALL phenophases for each plant you observe.
To add a site to your account: You can also create sites of your own to report from, and make each a Public Site (i.e., South Park Refuge), or keep it a private site (i.e., my backyard).
In "My Observation Deck" under "Sites" choose "Edit Site"
On the following page you can edit or add a new site, by naming it and giving location information. Google Earth pops up so you can simply pinpoint your location on the map to input location information.
How to report data
Go to your "Observation Deck," and under "Sites" click on Denver Botanic Gardens, or the site for which you are reporting data.
If the Phenology Trail, choose the Walk for which you are reporting data.
Click on "Enter Observation Data" on the right to report your data.
Record date, time of day (optional), time spent, and snow conditions, if any.
Click double arrow next to a given specimen to report those data.
Be sure to report Y, N, or ? for ALL phenophases for which you looked.
When all observations for a given date are entered, click "Submit Observations" at bottom of page. Done!
Mobile app instructions
On Nature's Notebook's main page, on the right side of the page, under "Quarterly E-Newsletter", click on "Nature's Notebook mobile apps for Android and iPhone" button.
The Android link takes you to Google Play where you can download the Nature's Notebook application.
The iPhone link takes you to a request to allow your computer to open iTunes and takes you to the program download screen.
Once you have downloaded the app, sign in and start reporting your observations. It is fast and easy to use!
The app will also track your location for ease of recording a specimen's location when at a new location.