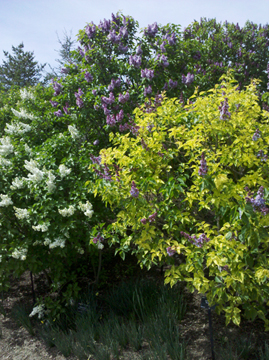 The long, rich history of lilac observations has led to a better understanding of plant responses to global change. Dedicated volunteers have been tracking the phenology of cloned and common lilacs since the 1950s. The observations have been invaluable in documenting plant responses to changing spring conditions.This information has been used along with historical weather data across the country to capture the timing of Spring Indices, such as leaf-out and flowering that primarily vary with temperature. At the Gardens we are monitoring 29 individual Syringa vulgaris, the common lilac, including 25 S. vulgaris varieties. Monitoring all of the varieties in one location provides the opportunity to determine how phenology varies among the varieties. In 2013 we also planted two cloned lilacs (Syringa x chinensis 'Red Rothomagnesis') which we received from the USA National Phenology Network (USA-NPN). Data collected from these and other cloned lilacs allow phenological comparisons across the country without genetic variation contributing to differences in timing.
Join Denver Botanic Gardens monitoring efforts by reporting your own observation data to USA-NPN. It's easy.
Just log on to Nature's Notebook with your own account (simple to set up if you don't already have one).
Go to "My Observation Deck" and in "My Account Details" choose the "Edit" tab.
Under Partner Groups, choose "Botanic Gardens and Arboretums," and check "Denver Botanic Gardens" from the drop-down list. Click "Save" at the bottom of the page.
Now go to your "Observation Deck," and click on Denver Botanic Gardens under "Sites." Choose the site you're interested in observing and a list of plants on that Walk appears in "My Plants and Animals."
Click on "Enter Observation Data" to report your data.
Mobile app instructions to input data directly to USA-NPN
On Nature's Notebook's main page, on the right side of the page, under "Quarterly E-Newsletter," click on "Nature's Notebook mobile apps for Android and iPhone" button.
The Android link takes you to Google Play where you can download the Nature's Notebook application.
The iPhone link takes you to a request to allow your computer to open iTunes and takes you to the program download screen.
Once you have downloaded the app, sign in and start reporting your observations. It is fast and easy to use!
The app will also track your location for ease of recording a specimen's location when at a new location.
Remember: Knowing when a plant is NOT in a given phenophase is just as important as knowing when it IS. Please fill out ALL phenophases for each plant you observe.
The observations you submit will be part of a national database and freely available to everyone.