Kathryn Kalmbach Herbarium
The Kathryn Kalmbach Herbarium (KHD), a collection of over 49,000 vascular plant specimens, is a regional herbarium with a research focus on the species diversity of Colorado and the Southern Rocky Mountain region. The collection also contains species from other areas of the Southwest and those species that are in cultivation at Denver Botanic Gardens.
The herbarium has excellent collections of many plant families including Cyperaceae (particularly the genus Carex), Fabaceae (especially the genus Astragalus), Poaceae, Orchidaceae, Brassicaceae and Ophioglossaceae.
To learn how a plant in the field becomes a useful specimen to science, see the KHD Plant Collection Protocols.
Search the KHD database at SEINet
SEINet includes 33 herbaria collections, distribution maps and dynamic checklists.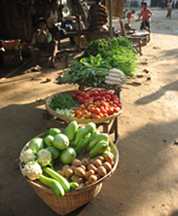 Ethnobotanical Collection
Denver Botanic Gardens has one of the only actively curated ethnobotanical collections in the western United States. Ethnobotany is the study of the relationship between plants and people, and this collection documents how plants are used by humans for everything from medicine and textiles to cultural and spiritual purposes. The collection focuses on three areas of research: 1) how plants native to the region are used by people; 2) how Native American groups within the region use plants; and 3) how other cultural groups in the area utilize plants. This last research area emphasizes those plants bought and sold in Hispanic herb stores and farmers markets. View examples of our ethnobotanical specimens.
Public Service
The KHD collection can be used to aid plant identification and other types of study. Scheduled appointments are suggested for visitors, especially during the field season. Educational tours of the herbarium are also available for interested groups.
Hours: Monday-Thursday: 9 a.m. - 2 p.m. Contact KHD staff to make an appointment for identification services. Please see our fees for identification services.
Field Projects
Cherokee Ranch & Castle – In partnership with Cherokee Ranch & Castle, we are conducting a floristic inventory of the 3,100 acre property just forty minutes south of Denver in Douglas County near Castle Pines Village and Sedalia. Besides having a picturesque 1450s Scottish-style Castle, the property provides stunning views of the Front Range from Pikes Peak to Downtown Denver and holds diverse habitats with gambel oak, Pediocactus, lupines, sedums, and monument plant (Frasera speciosa).
BACA National Wildlife Refuge  - We are continuing a floristic inventory of the refuge initially started by Pam Regensburg, KHD collections manager. The refuge (500,000 acres) is high mountain desert situated within the San Luis Valley ecosystem. Within the refuge are many habitats from halophytic soils to wetlands.
Sclerocactus glaucus associated species – We are working with the Gardens conservation team to document species associated with the endemic and threatened cactus, Sclerocactus glaucus.