Re-search the Gardens: Meet our Scientists
Join us for our Research and Conservation science series, "Re-Search the Gardens: Meet our Scientists." Each brown bag lunch talk is from noon to 1 p.m. and is included in Gardens admission.
The Research and Conservation Department at the Gardens plays a critical role in the conservation, preservation and documentation of native Colorado flora by serving as an active center of biodiversity research for the Southern Rocky Mountain region. Join our scientists for an in-depth look at the research we do to document and protect Colorado's natural heritage.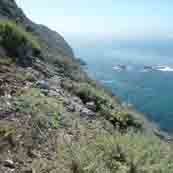 Using genetic data to manage rare plants; applications and examples
Dr. Mitchell McGlaughlin, Associate Professor, School of Biological Sciences, University of Northern Colorado
Wednesday, May 14, 2014 - Noon-1 p.m.
Plant Society Building
Since its origin, the field of conservation genetics has been dominated by research focused on determining levels of genetic diversity within and among populations of rare taxa. Although empirical data has documented the relationship between levels of genetic diversity and 'evolutionary potential,' many conservation genetic studies fail to answer questions important to the short-term management and conservation of rare taxa. With recent advances in molecular tools and data analysis, the potential now exists to answer conservation genetic questions that inform short-term management needs while also contributing to the our understanding of the evolutionary history of species. In this talk, three areas where genetic data is particularly useful will be highlighted: 1) assessing taxonomic uncertainty, using examples from Colorado Plateau Sclerocactus (Cactaceae) and Oreocarya (Boraginaceae); 2) examining the threat of extinction due to hybridization, using examples from Channel Island Acmispon (Fabaceae) and Colorado Sclerocactus (Cactaceae); and 3) designing ex-situ collections that accurately represent natural diversity, using the Santa Cruz Island Rock Cress, Sibara filifolia (Brassicaceae). Together, these studies illustrate how geneticists and land managers can come together to address questions that enhance the management of rare taxa and move beyond solely measuring levels of genetic diversity.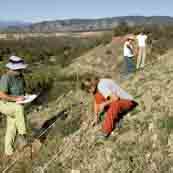 Conservation of Native Plants in the Bureau of Land Management
Dr. Carol Dawson, State Botanist, US Bureau of Land Management, Colorado State Office
Wednesday, July 9, 2014 - Noon-1 p.m.
Gates Hall
The Bureau of Land Management is responsible for the Stewardship of 8.3 million acres of public lands in Colorado. Colorado's 8.3 million acres of BLM public lands, along with 27 million acres of mineral estate, are concentrated primarily in the western portion of the State. The vision of the Bureau is to enhance the quality of all citizens through the balanced stewardship of America's public lands and resources. Our mission is to sustain the health, diversity and productivity of the public lands for the use and enjoyment of present and future generations. I will discuss the programs within the Bureau that focus on plant conservation: the native plant materials development program and the special status species program.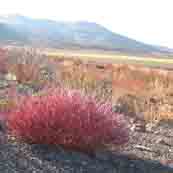 Conservation in Action: A Case Study
Dr. Melissa Islam, Associate Director of Research & Head Curator of the Herbaria at Denver Botanic Gardens
Wednesday, September 10, 2014 - Noon-1 p.m.
Gates Hall
Denver Botanic Gardens established the Center for Conservation Genetics in 2009. We investigate genetic diversity levels and patterns in some of our state's rarest species and provide that information directly to land managers. For the last few years, we worked with Corispermum navicula Mosyakin (Amaranthaceae) known commonly as boatshaped bugseed. This species occurs only in the two cold-climate sand dunes in North Park (Jackson County, Colorado), which constitutes about six square miles of habitat. Because of the narrow distribution and known threats to C. navicula's primary habitat from off-road vehicle use, the species is slated for review by the US Fish and Wildlife Service for listing under the Endangered Species Act. Identification of C. navicula compared to the more wide-spread C. americanum is difficult for a number of workers. They have questioned if it is a distinct species. In collaboration with the management agencies involved with this species, the Gardens undertook a study to assess the validity of C. navicula. I will present the Gardens' research on this species including an answer to the question is C. navicula a unique species.
Joe Statwick, PhD Candidate, University of Denver and Denver Botanic Gardens
Wednesday, November 12, 2014 - Noon-1p.m.
Plant Society Building