Re-search the Gardens: Meet our Scientists
Join us for our Research and Conservation science series, "Re-Search the Gardens: Meet our Scientists." Each brown bag lunch talk is from noon to 1 p.m. and is included in Gardens admission.
The Research and Conservation Department at the Gardens plays a critical role in the conservation, preservation and documentation of native Colorado flora by serving as an active center of biodiversity research for the Southern Rocky Mountain region. Join our scientists for an in-depth look at the research we do to document and protect Colorado's natural heritage.
Cli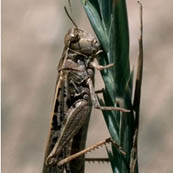 mate change on the Front Range; how a large collection of grasshoppers led us to ask so many questions
Rick Levy, Database Associate, Denver Botanic Gardens
Wednesday, September 10, 2014 - Noon-1 p.m.
Gates Hall
When the University Of Colorado Museum Of Natural History acquired a large collection of grasshoppers dating as far back as the 1930s, it became clear that we were in store to learn a great deal. Dr. Gordon Alexander had systematically collected grasshoppers up and down the mountains west of Boulder, preserved them, and taken excellent notes up until his death in 1973. Today, we are using this detailed record of what grasshopper populations in Colorado were like in the past to ask questions about how these important herbivores have changed, and what lies beyond the horizon.