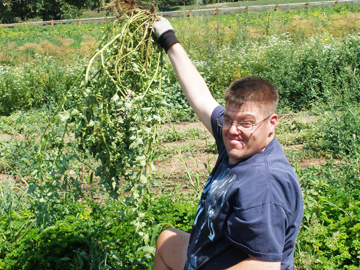 Experience our Chatfield location, a beautiful nature preserve, rolling open space, and historic farmstead. Work towards vocational goals through farming and gardening activities; plant and tend raised edible garden beds, feed the chickens, and harvest vegetables! Build teamwork and cooperative skills, cultivate respect for living things, and take pride in meaningful accomplishments. Participants will work as a team to tend raised beds of vegetables and flowers, and assist with farm tasks, which change seasonally. 
Location:
Denver Botanic Gardens at Chatfield
Dates and Times:
Beginning of June through the end of September
One-hour program, weekdays between 9 a.m. and 3 p.m.
Shaded picnic areas are available for lunch before or after the program, and garden area is shade covered.
Cost:
One-time visits: $30 for-profit, $20 nonprofit
Three visits: $80 for-profit, $50 nonprofit
Prices to be determined for a longer partnership.
General Info
Programs are offered by reservation only.
Payment is due upon booking.
Cancellations made at least one week prior to the program will receive a full refund.

Cancellations with less than one week notice (weather cancellations excepted) are not refundable. If cancellation is made by the Gardens, we'll seek to reschedule your program.
Questions? Email thprograms@botanicgardens.org or call 720-865-3613.
To schedule a program for your group, fill out a request form and send back to us at thprograms@botanicgardens.org, or call 720-865-3613. Our Summer Sensory Therapeutic Horticulture program is offered at our York Street location. Additionally, our Winter Therapeutic Horticulture Program brings gardening to you over the winter months.