Chatfield Veteran Reintegration Program
 - GROWING FOOD, GROWING SKILLS, GROWING COMMUNITY  -
The Chatfield Veteran Reintegration Program began in 2013 and resumed in May 2014. Volunteer participants work at a five-acre Community Supporting Agriculture (CSA) farm at Denver Botanic Gardens at Chatfield.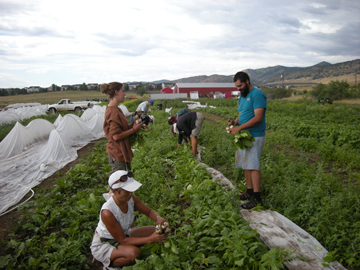 Program Mission:
To support the vocational, social, physical and therapeutic goals of post 9/11 military veterans through the application of sustainable farming techniques in a community setting. 
Program Goals:
To provide veterans with the opportunity to learn the art and science of sustainable farming
To provide guidance for veterans who desire to translate their military experience into civilian careers and personal lives
To enhance the sense of well-being and companionship between veterans, their peers and the community
To provide a secure, natural, setting for veterans to exercise and enjoy the outdoors
What to expect from the Chatfield Veteran Reintegration Program:
Work four hours per week, May through October
Plant bulk seeds and seedlings
Cultivate the fields and maintain crop quality
Learn how to install irrigation, amend soil and prepare beds
Harvest vegetables and distribute them to members of the community
Take a partial share of vegetables home after each work session
Participate in free classes including food nutrition, food preservation and resume building
Experience the healing effects of the outdoors at Denver Botanic Gardens at Chatfield
Application Process:
All interested applicants must apply online. We are happy to accommodate special physical needs to the degree that is possible within the farm setting. Please note: there are a limited number of volunteer positions available. All applications were reviewed and participant selections were made by April 5, 2014.
About the Community Supporting Agriculture (CSA):
Community Supporting Agriculture (CSA) is a farming model that directly involves the consumer with the farmer. In our case, we choose to use the word "supporting," rather than "supported," to show that the exchange actively goes both ways. The CSA concept originated in Japan, where a group of women approached local farmers about growing food for their immediate communities in order to preserve farm land from development. These relationships came to be known as "Tei Kei's" or "food with the farmer's face on it."
Contact us:
Call Emilee Vanderneut, lead horticulturist and Chatfield Veteran Reintegration Program manager, at 720-865-4354 or send email to veterans@botanicgardens.org.