Chatfield Veteran Reintegration Program
Program Transition
In May 2015, the Chatfield Veteran Reintegration Program will partner with Veterans to Farmers and has transitioned into a dual track program for the upcoming growing season. Through this partnership, we are excited to offer richer opportunities for veteran participants to diversify vocational opportunities, engage with their community, create relationships amongst other service members and get financially compensated for their participation.
Veteran Stipend program
Veterans to Farmers and Denver Botanic Gardens at Chatfield's Farm provide a space to learn hands-on, small-scale vegetable production and controlled environment greenhouse skills. Veteran participants can choose either the 12-week in-soil farming program (Chatfield location) or the 12-week greenhouse management program (Firestone, CO). Please email Rich at Veterans for Farmers for more information.
Veteran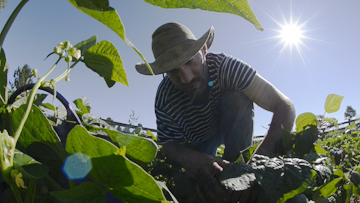 Volunteer Program
If you cannot commit to 15 hours per week but are still interested in learning horticulture and/or agriculture skills and being a part of the veteran team, apply as an unpaid volunteer with the Chatfield Farm. The Veteran Volunteer Program provides volunteers with skills to prepare soil, plant seeds and seedlings, maintain crop quality and distribute produce to underserved communities in need of healthy food options. For questions about this program, please email vol@botanicgardens.org or call 720-865-3609.
About the Community Supporting Agriculture (CSA):
Community Supporting Agriculture (CSA) is a farming model that directly connects the consumer and the farmer. In our case, we choose to use the word "supporting," rather than "supported," to show that the exchange actively goes both ways. The CSA concept originated in Japan and became known as "Tei Kei's" or "food with the farmer's face on it."