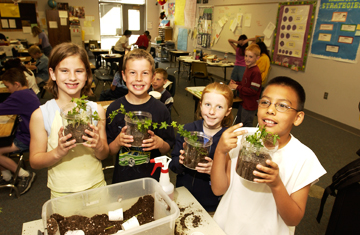 Cultivation Cruiser Outreach brings the Gardens to your classroom with plants, fun and unique activities, and planting projects. Our programs will engage your student's natural curiosity to excite them about the world of plants -- all within the confines of your classroom.
Reservations:
To schedule a Cultivation Cruiser visit to your classroom, please email registrar@botanicgardens.org or call
720-865-3580. Registration for Cultivation Cruiser programs at your school begins August 15, 2013 for the fall 2013 semester, and January 14, 2014 for the spring 2014 semester. Approximately two weeks before our visit to your classroom, you will receive a confirmation packet with materials and a book(s) to prepare your students for our visit.
Cost:
Cultivation Cruiser programs cost $75 each plus a $15 mileage fee ($0.60 per mile outside the SCFD) for each trip we take to your school. Scholarship money is available to support schools with 60 percent or more participation in the Federal Free and Reduced Lunch program. Find out more about our scholarship program. Age ranges below are suggestions only. We can adapt most programs to meet the needs of a variety of learners. Programs limited to 30 students.
 
Sensory Adventures (Grades PreK-1)
Students will use their sense of smell, taste, sight, touch and hearing to explore the world of plants.
Ecological Explorations (Grades 2-4)
Plants and animals work together in many ways in ecosystems all over the world. Students will discover what lives in an ecosystem and how the plants and animals in the ecosystem interact with one another.
Flower Power (Grades 2-12)
Flowers are beautiful, but their real and important purpose is for reproduction in the plant. Students will investigate flowers and learn how they help in the important process of pollination and seed formation.
Moldy but Goody (Grades 6-8)
While often thought to be plants, fungus such as mold, yeast and mushrooms make up their own kingdom. Explore the unique world of fungus as you learn how they are similar to and different from plants, and the optimum conditions for their growth.
P.S.I.: Plant Science Investigators (Grades 5-8)
Many crime scenes and suspects contain traces of plants as evidence. Learn how basic plant concepts such as photosynthesis and seed dispersal are used by investigators to solve crimes.
Mendel's Madness (Grades 9-12)
Introduce Mendelian genetics in a practical, hands-on fashion. Students will explore the work of Gregor Mendel and how he came up with his theory of genetics while they apply Mendelian genetic theories to actual plant specimens. This program is an introduction to the study of genetics and is best completed at the beginning of a genetics unit.
Junior Gardeners (Grades 2-12)
Explore the world of plants and gardening. Learn how to grow your own plants, while discovering how gardening extends beyond plants to include insects, soil and the environment. Be prepared to get dirt under your fingernails, play with pet worms, watch plants eat insects, eat the plants you grow and have lots of fun! As part of the program we will bring a grow light to your school for students to grow plants indoors. (This program is 6 sessions long, 60 minutes per session. The cost for the six week program is $600.)
Planting Project (Grades PreK-12) 
Provide an opportunity for your students to get dirt under the fingernails while planting their very own plant to care for. Each small group of 20-30 students will spend approximately 15 minutes each exploring a diverse selection of plants with their five senses and potting a plant to take home. Cost: $1 per student, $100 minimum.