Food Programs & Initiatives
Denver Botanic Gardens' Urban Food Initiatives - Denver Botanic Gardens is committed to increasing access to fresh, healthy food. We have recently stepped up efforts in so-called food deserts. Highlights include projects with Denver Housing Authority and Denver Human Services.
Denver Housing Authority (DHA) - The Gardens' horticulture staff  authored a curriculum to inform urban gardening instruction – both hands-on and classroom-based – at Mariposa, a DHA development. With guidance from Gardens' agricultural experts, residents have overseen the management and harvesting of two gardens at Mariposa, and plans are underway to expand similar programming from this one DHA site to multiple sites. The Gardens also runs a free produce distribution program at Mariposa (providing 1,100 pounds of fresh produce to DHA residents in 2013) and launched a farm stand in 2014 that sells additional produce, accepting EBT payments from SNAP and WIC (food stamps) recipients.
Farm Stand Hours Summer 2015:
989 Navajo St., Denver, CO 80204
Wednesdays 5-7 p.m.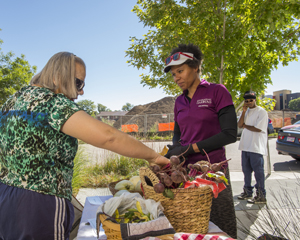 Denver Human Services - The Gardens also introduced farm stands at Denver Human Services' Castro Building in 2014 to provide Denver residents easy access to healthy, fresh vegetables. Denver Human Services provides public assistance and programming to Denver's most vulnerable populations, many of whom live in areas deemed food deserts. The response to the stands (which also accept EBT payments) has been so positive that the Gardens was asked expand to other Denver Human Services locations in 2015.
Farm Stand Hours Summer 2015:
  Main Office, 1200 Federal Blvd, Denver, CO 80204
    Mondays 10 a.m. - 1 p.m.
  East Office, 3815 Steele St., Denver, CO 80205
    Wednesdays 1:30-4:30 p.m.
  Montbello Office, 4685 Peoria St., Denver, CO 80239
    Fridays 12-3:30 p.m.

Chatfield Community Supporting Agriculture (CSA) and the Community Garden at Congress Park - Farm stands at both DHA and Denver Human Services feature produce grown at Denver Botanic Gardens at Chatfield. The Community Supporting Agriculture (CSA) program there launched in 2010 and was the first offered by a botanic garden. More than 500 families enjoy fresh, locally or self-grown produce with the CSA's 350-plus subscribers and more than 150 Community Gardens' gardeners. Nearly one ton of vegetables from the CSA and 900 pounds from the Community Gardens were donated to food banks and other distribution programs in 2013.
 
Edu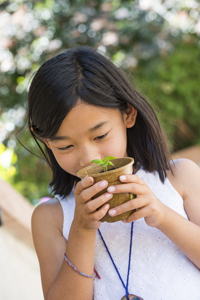 cational programs - The Gardens has a longstanding tradition of healthy food education for children and adults. Our Education Department visits schools across Metro Denver and the state with the Cultivation Cruiser, a classroom-on-wheels where kids learn about plants. The Grow Local Colorado program helps design vegetable community gardens across the metro area. Onsite classes and events use the gardens at York Street and Chatfield as living classrooms and some highlights include our Seedlings and Plant-to-Plate classes for kids and families, along with an ever-changing offering of seasonal cooking classes. Chatfield's new Veteran Reintegration Program invites veterans to volunteer at the CSA, while benefitting from horticultural therapy.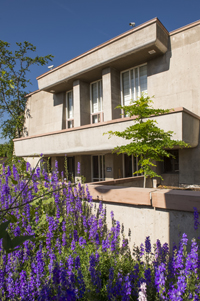 Food gardens - You could say Denver Botanic Gardens has been in the food business since our establishment in 1951, as plants are the foundation of the entire food system. We continue to focus on edible plants at both our York Street and Chatfield locations. The Sensory Garden at York Street stimulates all five senses – including taste. Le Potager Garden features vegetables, herbs and edible flowers, and much of its bounty contributes to the Gardens' food distributions. The Chipotle Home Harvest Garden at Mordecai Children's Garden hosts kids' food-based classes.