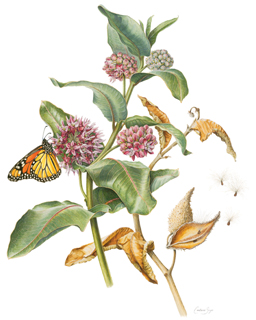 Botanical art and illustration is the well-established tradition of portraying plants for scientific purposes, recording vanishing species for historical record, or rendering the beauty and inspiration we experience in the flora of the world around us.
We invite you to join the tradition of artists who have portrayed the beauty of plants for centuries. Our core curriculum provides comprehensive instruction in botanical art and illustration.
In the School of Botanical Art and Illustration, you will learn the skills to render plants in remarkable scientific detail and the artistic techniques needed to create beautiful and lasting plant portraits.
Beginners will acquire new knowledge and skills, and experienced artists will refine techniques and find fresh directions for their work. All students enjoy small classes in a positive and encouraging atmosphere.
With close to 200 courses and workshops offered each year, we'll help you to combine scientific accuracy with an aesthetic vision to create beautiful botanicals. Sample the program with an introductory course or jump right into the core curriculum. Whether you have painted for years or did your last great work in grade school, our instructors will meet you where you are to begin your botanical art and illustration journey.
2016 Winter/Springl Botanical Art & Illustration course catalog 
Visit the School of Botanical Art and Illustration blog.
Visit the School of Botanical Art and Illustration page on Facebook.