Concessions & Food Service
 Offshoots at the Gardens Cafe
O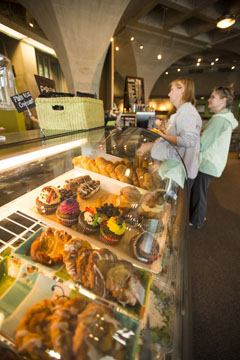 ffshoots Café is located in the main building, by the Water-Smart Garden. Entrance included with admission.
In the morning, select from a variety of freshly made breakfast burritos, pastries or stuffed breakfast croissants. Lunch and dinner provide a variety of salads, soups and sandwiches always made fresh, with local ingredients when possible, reflecting the Gardens' core value of sustainability. Lots of vegetarian items are available.
Offshoots Café also has a full service coffee bar and free Wi-Fi. Enjoy a latte, surf the Web, work remotely and relax in one of the cushy chairs or at the laptop bar in front of a window that looks out on vistas of gardens or inside our Boettcher Memorial Tropical Conservatory.
Through May 7, 2016:
Daily 9 a.m. - 5 p.m. (Panini grill closes at 4:30 p.m.)
May 8 through September: 
Daily 9 a.m. - 8 p.m. (Panini grill closes at 7:30 p.m.)
Hive Garden Bistro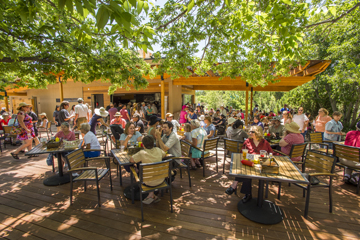 The Hive is a modern bistro nestled under the trees adjacent to the Monet Pool. The large, shaded deck offers idyllic views of water features and Le Potager Garden.
The restaurant features seasonal fare – including burgers, sandwiches and salads – prepared to order. Local ingredients and produce harvested from the Le Potager Garden and the Gardens' CSA grown at Chatfield are incorporated into the menu whenever possible. Restrooms are available. The Hive is open for the season (weather permitting).
Through Oct. 31:
10:30 a.m. - 3 p.m. Monday-Friday, 10:30 a.m. - 4 p.m. Saturday & Sunday