Japanese Garden and Bill Hosokawa Bonsai Pavilion
Botanical Interest:
Ponderosa pine (Pinus ponderosa) from Roosevelt National Forest (pines signify longevity and happiness in Japanese gardens).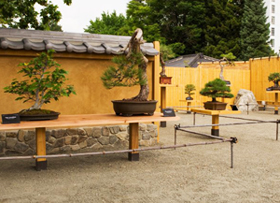 Bill Hosokawa Bonsai Pavilion & Tea Garden: The main focus of the Gardens' bonsai collection is trees from the Rocky Mountain Region. In addition, our bonsai collections include traditional, tropical and subtropical bonsai. The greenhouse in the Bonsai Pavilion facilitates the display of tropical and fragile bonsai that would be endangered if exposed to Colorado's climate. The garden surrounding the existing Tea House is the focus of the activities of Shofu-Kai, Denver Botanic Gardens' Tea Ceremony Society. The society includes members who have studied the rituals from Tea Ceremony Masters in Japan ensuring an authentic experience for visitors who attend their events and classes.
Public viewing of the Japanese Tea Ceremony Garden and House closes Wednesday, Nov. 4 for the season and will reopen in spring 2016.
It's a Fact:
The authentic Ella Mullen Weckbaugh Tea House was shipped across the Pacific from Japan and reassembled by skilled Japanese artisans and is the focus of Denver Botanic Gardens' Tea Ceremony Society, Shofu-Kai.