July in the Plant Select Garden
By Sonya Anderson, Horticulturist
Eff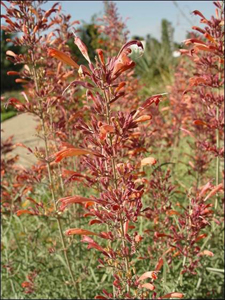 ortless. Durable. Beautiful.
The Darlene Radichel Plant Select® Garden at Denver Botanic Gardens is filled to the brim with plants that are effortless, durable and beautiful. In the month of July select hyssops, grasses, foxgloves, coneflowers, moon carrots and sages reach the peak of their display adding to the peak of our garden satisfaction.
Hyssops
"Instant classic" has been used to describe sunset hyssop (Agastache rupestris) when it was first planted at Denver Botanic Gardens. Colorful, tubular-shaped flowers form clusters appealing to gardeners and hummingbirds alike. Hardiness and a preference for a drier climate make it a perfect garden plant for our region. Other hyssops coming into their own at this time are Agastache cana 'Sinning' Sonoran Sunset™, Agastache aurantiaca Coronado™ and Agastache 'Pstessene' Coronado Red®.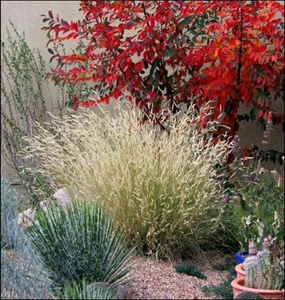 Boteloua gracilis 'Blonde Ambition'
One of the stars of the Plant Select program is certainly David Salman's 'Blonde Ambition' blue grama grass. With higher temperatures, its "blonde" stalks emerge catching rays of warm sunlight allowing it to either stand on its own or provide a beautiful backdrop for other mid-season bloomers such as sunset foxglove (Digitalis obscura), Tennessee coneflower (Echinacea tennesseensis) or 'Furman's Red' sage (Salvia greggii).
Tennessee Coneflower
Speaking of stars, this coneflower, endemic to three counties in the Nashville area, was once endangered in the wild but conservation efforts have since restored populations to healthy levels. Echinacea tennesseensis begins blooming in late June, continuing throughout the remaining season. Its lovely antique-pink petals surround the bristly, brownish cone and the flowers always face east, s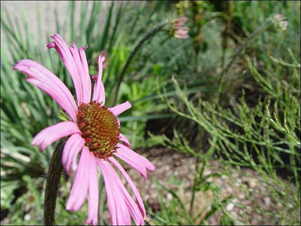 o plant them where you can best enjoy them.
Sages
The fact that six sages have made the cut for Plant Select is testament to its aptness for Rocky Mountain gardens. From the silvery-textured bold leaves of silver sage (Salvia argentea), to the purple and blue spikes of Mojave sage (Salvia pachyphylla), to the hummingbird magnets – Wild Thing sage (Salvia greggii), 'Furman's Red' sage (Salvia greggii) and Vermillion Bluffs™ Mexican sage (Salvia darcyi 'Pscarl') – you can't go wrong.
Moon Carrot (Seseli gummiferum)
Aptly-named, this member of the carrot family looks like it was either beamed down from outer space or brought back to earth by astronauts. Silvery-gray fern-like foliage emerges early in the seas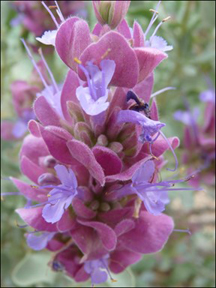 on and brings bright texture to the garden. The unusual, orbit-like clusters of flowers are creamy white at first and take on shades of purple and pink with age. The long-lasting blooms provide garden interest way into the fall and winter.
Refreshing Shade of Grapes
With the heat of July we often look to shady areas of our gardens for our own relief from the sizzling temperatures.  (Vitis x 'St. Theresa Seedless') not only provides us with juicy, refreshing fruit but, grown over an arbor or pergola, also the deep, cooling shade we long for on hot, sunny days.
For more information on these and all other Plant Select plants please visit plantselect.org.