March Walking Tour - Hellebores
By Sonya Anderson
Have you ever heard of hellebores? Or maybe you're heard them referred to as Christmas roses or Lenten roses? Hellebores have usually been more of a connoisseur's plant. They weren't easily found at most local garden centers and, when found, were often expensive. Finally they are at their showiest and most tempting when most people aren't shopping for garden plants. Winter. But there are many reasons to appreciate hellebores and to include them in your own garden.
Winter beauty is, by far, the best reason. Imagine a soft blanket of snow covering your winter garden and poking up through the snow is leathery evergreen foliage accompanied by clusters of nodding purple flowers. Now think about those flowers lasting from 4-8 weeks. And sometimes longer.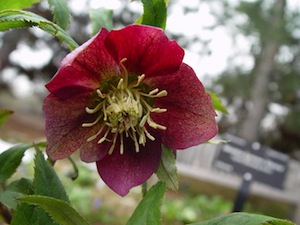 Hellebores are beautiful winter and spring bloomers that are easy to grow and, due to recent breeding programs, are becoming easier to find and more affordable. They only need some shade, a loamy, well-drained soil, extra moisture until established and a little compost for fertilizer each year. And when they do finally finish blooming, their foliage adds interest to the garden for the rest of the growing season. Hellebores are also drought-tolerant (does anyone have dry shade?), critter resistant and they make beautiful cut flowers.
Let's take a tour of the hellebores at Denver Botanic Gardens. Many of them may be hidden under snow this first week of March, however as soon as the snow melts, keep an eye out for these beauties.
Shady Lane
On the east end of Shady Lane, find a couple of benches along a small dirt side path. On the left is Helleborus x hybridus (Lenten rose). Said to bloom at the time of Lent, the flowers range from pale to dark pink next to thick, leathery, serrated foliage. With our harsh winters, the foliage may be damaged or tattered if not protected from wind by a covering of snow.
Directly across the path under the crabapple is Helleborus x hybridus 'Yellow Lady'. With large, 2-3" yellow flowers that are somewhat nodding, you can appreciate the reddish dappling and shading on the inside of the flower if you raise one up.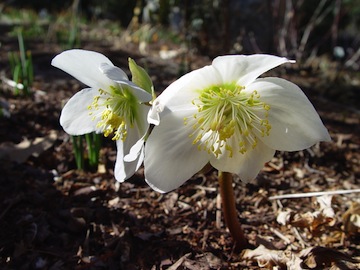 Return to the main Shady Lane path and turn left onto the next dirt side path. Pass the bench and find on your left Helleborus niger (black hellebore or Christmas rose). The flowers are white but its common name refers to the dark color of its roots. Christmas rose refers to its mid to late winter bloom time which is earlier than other hellebores.
Oak Grove
Return to the main Shady Lane path and make the next left into the Oak Grove, cross the plaza and enter the dirt path on the left. Before the first curve of the path you will find Helleborus 'Walhelivor' which is frequently sold under the name Ivory Prince. This hellebore's flower buds are dark pink but open into large creamy white outward facing flowers atop reddish stems.
Rock Alpine Garden
Leave the Oak Grove and make your way to the Rock Alpine Garden's east entrance via South African Plaza. Take the main paved path through the garden until you reach a path taking you to the pond on the right or the Cactus and Succulent house on the left. Go left and immediately to the right and up the slope above some rocks you will find Helleborus torquatus (Bosnian hellebore), native to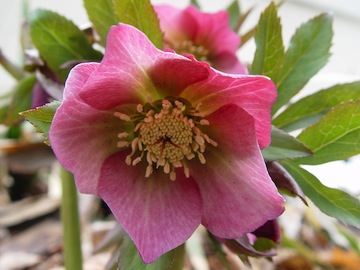 the Balkans. Deep reddish brown flowers are highlighted with greens and yellows that capture the light shining as these flowers face outward instead of nodding.
Continue on this dirt path turn right and then left behind the Cactus and Succulent House. Continue south along the fence until the path curves left. Along the wall just before the metal gate is Helleborus cyclophyllus (hairy hellebore). Hairy hellebore is so named because its leaves are slightly hairy underneath. Its buds start out deep pink and become paler pink as they open to full flower. In this same area are more of Helleborus x hybridus like you saw back in Shady Lane.
Continue past the metal gate onto the dirt path winding up the hill. Just as you return to the main concrete path on your left you will find Helleborus x nigercors HGC® 'Green Corsican'. The foliage creates a mound about 9" tall and 16" wide which, in late winter, is topped with spikes of large white flowers. You may also see hints of green in the flowers which is very common among hellebores.
PlantAsia
Make your way east to the Moongate on the west side of PlantAsia, enter and stay left and onto the black stone path. On your right is Helleborus foetidus also known as stinking hellebore. Lovely name huh? The flowers don't actually stink but the foliage has a pungent smell when crushed. This hellebore's foliage is distinctly different from others in that it is dark green, almost blackish, and finely dissected. It also grows taller than other hellebores, up to 24" high with clusters of smaller green flowers. Continue on the stone path, cross the small bridge and on your right you will find Helleborus orientalis with wonderful nodding pink flowers.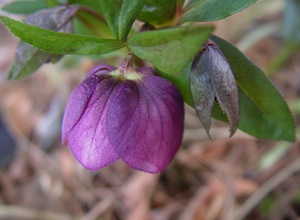 Waring House
If you're up a for a little more walking there are a couple of hellebores on the south side of the Waring House that are worth seeing. Exit the Gardens through the Bonfils-Stanton Visitor Center, turn right and follow the sidewalk until just before 9th Street. Turn right up a few stairs and through a small metal gate. Follow the path, go left down the stairs, cross the patio and take the stairs up to the right. At the top of the stairs on your left are Helleborus 'Kingston Cardinal' and 'Gold Finch'. Kingston Cardinal sports gorgeous deep red flowers which exude feelings of Christmas when surrounded by soft snow and 'Gold Finch' is a burst of sunny golden spring in late winter.
I hope you've enjoyed this tour and are inspired to plant some of these lovely, easy-to-grow winter beauties in your own garden.
Photos by Sonya Anderson