Autumn in the 松風園 Japanese Garden
By Ebi Kondo, Curator of the Japanese Garden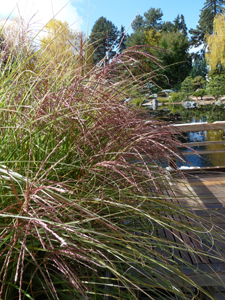 "月見 Tsukimi"in Japan is a "mid-autumn Moon-Viewing Festival," a traditional event people look forward to every year. It involves parties to enjoy viewing the "Harvest Moon," along with displaying a decorations made from fall blooming plants, seasonal crops (such as chestnuts or sweet potatoes) and eating rice dumplings called "団子 Dango".
すすき Maiden grass, Miscanthus sinensis, native to Eastern Asia, is a one of the most important plants representing the fall season, and a center piece of arrangements. A cultivar of maiden grass, 'Yaku Jima', has narrow leaves and fine texture (which moves with the autumn breeze), framing the moon-viewing deck in 松風園 Sho-Fu-En. It starts setting its tassel-like silver flowers under fall sunlight.
With its characteristic silvery plume of flowers and seeds, this grass which offers many cultivars in different sizes, colors, textures and blooming seasons are displayed in the Ornamental Grasses Garden located behind our new Science Pyramid.
A wispy shrub with small pink flowers, bush clover 萩 Hagi Lespedeza spp., are slowly finishing their flower display, which started blooming in mid-summer, a sentimental hint of the arrival of the fall season. It is also native to Eastern Asia, and another plant that represents the fall season.
Chrysanthemum (菊) is one of the most popular garden plants th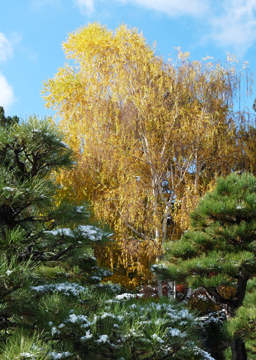 at has been cultivated for centuries in both the East and West. There are three different blooming seasons: early (September), mid-season (September-October) and late (October-November). A cultivar, 'Emperor of China', has a spray form of medium-sized flowers with a pink and yellow hue in mid fall season, which contrasts beautifully with surrounding fall colors.
Leaves of quaking aspen, Populus tremuloides, are also starting to change color, signaling the fall season You may also see weeping birch, Betula pendula 'Gracilis', displaying yellow leaf color and bradford flowering pear, Pyrus calleryana 'Bradford', with red-colored leaves.
Exiting from the Japanese Garden towards the Plains Garden, over the Japanese bridge and stream, lanceleaf cottonwood, (Populus x acuminata) shows vibrant yellow fall color that ties back to the fall color of the Plains Garden - a quintessential Colorado fall scene.
In the Japanese folk tale "Rabbits and Moon," people believed that the rabbits are living in the fall full moon, pounding boiled rice and making Dango. The inspiration for this folk tale came from the shadow on the surface of full moon.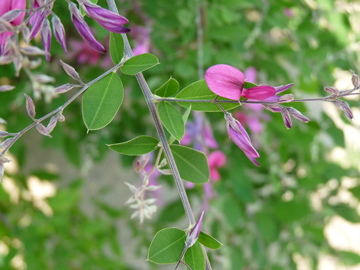 Appreciation of nature and capturing the moment of the changing season are fundamental philosophies of Japanese culture and aesthetic as found in cherry blossom-viewing in springtime, firefly-viewing on summer evenings and moon-viewing in the fall.
Photos from Gardens Navigator