July Walking Tour - Sensory Garden's Green Wall
By Angie Andrade Foster, Senior Horticulturist

When you enter any garden in July your senses are overwhelmed by the intricate plantings of bright colors and bold textures. Your mind is automatically flooded with sights, sounds, and smells of garden memories. The same is true for the Sensory Garden but when you enter this garden you are encouraged and reminded to immerse all of your senses in each plant.
Located at the north end of the Sensory Garden you will find the only example of a green wall at Denver Botanic Gardens. This has been a very important feature for this garden because it allows plants to be grown at eye level for people standing sitting or using a wheelchair. Every visitor to this garden has a chance to interact and experience the plants up close and personal.

Starting on the north wall make sure you feel and smell the peppermint geranium (Pelargonium tomentosum). This plant not only has extremely soft leaves it will surprise you with its strong peppermint fragrance. Growing alongside the geraniums are several plants that are mostly grown for their unique foliage. Troy's gold (Plectranthus ciliatus 'Troy's Gold') with their brilliant yellow leaves and purple undersides are rough to the touch. Wire vine (Muehlenbeckia axillaris) and purple shamrock (Oxalis triangularis) also add to the various sizes, shapes and colors of foliage on the wall. The bright blooms of yellow Calibrachoa and the pink Big Bounce Cherry™ Impatiens balance this bold combination of textures and colors.
Move on over to the south wall and you will find yellow and red forms of cascading snapdragons (Antirrhinum majus 'Candy Showers'). Do you remember squeezing the cheeks of the snapdragon flower and making them talk? Give it a try. You will find more yellow flowers on the Lemon Drops toothache plant (Acmella oleracea 'Lemon Drops'). This little plant, also known as the eyeball plant, sports perfectly round yellow flowers. Make sure to give a gentle pet to the bunny tails grass (Lagurus ovatus). This grass is so soft and its seed head is so cute, just like a bunny's tail.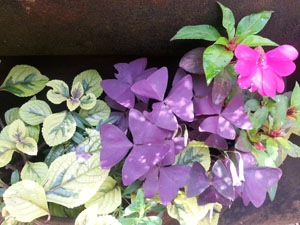 There are so many wonderful plants to experience in the Sensory Garden and July is a great time to visit, make sure to explore the rest of the garden and don't forget to use all of your senses.
Photos by Angie Andrade Foster