In the Water Gardens
By Tamara Kilbane, Senior Horticulturist - Aquatics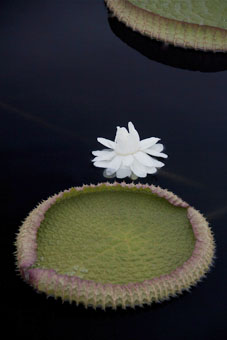 The water gardens are overflowing with color this month. Brilliant foliage and blooms greet you from every vantage point, creating a rainbow of living color that enhances the spectacular Chihuly artwork in our waterways.
A highlight in the ponds right now is the impressive water platter (Victoria 'Longwood Hybrid'). This tropical waterlily is a hybrid created at Longwood Gardens in the early 1960's using the two existing Victoria species, cruziana and amazonica, as parent plants. Our water platters are just beginning to form their first buds and should grace the water gardens with fragrant, night-blooming flowers by mid-August. These blooms can reach 10" in diameter here in Denver and each flower opens for two nights. The first night's bloom is pure white and female. The flower closes the following day and reopens that evening as a male flower with pink coloration. Take advantage of our 9 p.m. closing time this month to see these flowers opening in the Monet and Four Towers pools.
Another standout plant in the pools this month is the hardy waterlily Nymphaea 'Manee Red'. This perennial waterlily hybridized by Pairat Songpanich of Thailand has deep red blooms that rest on the water's surface. Unlike many other red waterlilies, this hybrid does not burn in our intense summer sunlight. It is also a steady bloomer, with an average of 3-4 blooms open each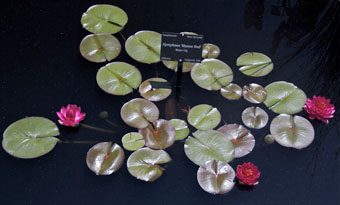 day. A past entry in the IWGS New Waterlily Competition, you can find this stunning new hybrid in the small square pool adjacent to Le Potager.
Speaking of new hybrids, Denver Botanic Gardens is once again the growing site for the IWGS New Waterlily Competition. There are 24 entries this year in three categories: hardy, tropical, and intersubgeneric (hardy x tropical crosses). These unique plants can be found growing in the Four Towers pool next to the new Science Pyramid. Visitors can vote for their favorite new hybrids in each category beginning in August.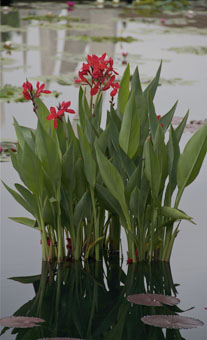 Also, don't miss the many bold and colorful varieties of aquatic cannas growing throughout the water gardens during your tour. In the reflection pool adjacent to the All -America Selections Garden, you will find a row of Canna 'Australia' filling the back of the pond. The leaves of this plant are deep burgundy to almost black and are accented by brilliant red flowers. In the Zen pool, Canna 'Pretoria' will greet you with brightly variegated green and yellow leaves and hot orange blooms. In the Rose Garden pools, you will find the softer colors of Canna 'Erebus'. This canna has silvery green foliage and pastel pink flowers. Finally, in the Monet Pool, you will find the diminutive Canna 'Pink Sunburst' which grows only 2-3' tall compared to the average 4-5' of most of our aquatic cannas. Also in the Monet Pool, Canna 'Endeavour' and Canna 'Ra' are in full bloom. These red and yellow flowering hybrids were part of a series of aquatic cannas created at Longwood Gardens using the water-loving species Canna glauca as a parent plant.
August into September is a peak time to see all of these plants and more in the display pools – enjoy your visit!
Photos by Tamara Kilbane