May Walking Tour - Water-Smart Garden
By Dan Johnson, Associate Director of Horticulture, Curator of Native Plants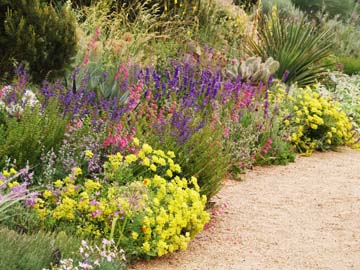 May is our wettest month on average in Denver, but we all know how dry it can be later in the season. Planning ahead for a garden that requires less water through the season is always a smart way to go, and the Water-Smart Garden is our showcase of dry-loving plants.
These plants share a number of attributes that set them apart from more traditional plant palates. These plants don't just tolerate drought—they actually thrive in drier conditions. The species and cultivars here come from around the world, and all originate from regions with limited precipitation, cool winters, and hot summers. This includes many native Western plants, growing alongside plants from the Mediterranean, the cold dry steppes of Eastern Europe and Central Asia, the mountains and steppe of South Africa, and the cold highlands and steppe of South America. The Water-Smart Garden is seldom irrigated before May, and then is watered only between 6 and 10 times through the growing season. This varies greatly depending on precipitation, and the garden is always allowed to become fairly dry between watering.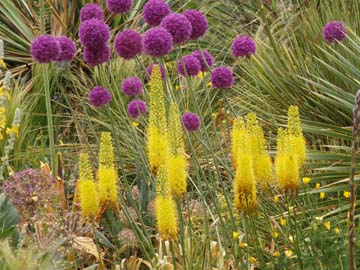 In May, after a cold snowy winter and some early spring rains, these drought-adapted plants respond with a burst of new growth and profuse flowers. Perennials that rise to the occasion early include the vigorous meadow sage, Salvia transsilvanica with its glowing purple spires above coarse notched leaves. It flowers all month, and with deadheading will rebloom once or twice more through the season. This extended season allows you to combine it with the earliest penstemons (P. eatonii and P. pseudospectabilis), Allium and California poppies; then later with flowering thyme, Jupiter's beard and Penstemon barbatus, and even later with Russian sage and goldenrod.
The garden in May is nearly overtaken with late spring bulbs. Hardy bulbs are especially well adapted to our conditions, exploding into growth with our spring moisture, then returning to a dormant condition as the season becomes hot and dry. The showstoppers that garner the most attention are the ornamental onions, Allium, and the foxtail lilies, Eremurus. These are native to open grasslands and mountain meadows from Europe to the Himalayas. Several species of Allium are also native to arid portions of Colorado and the West, though most have smaller flowers. Look closely through the spring season though, and you will discover dozens of species and cultivars of bulbs that rotate in and out of flower all season.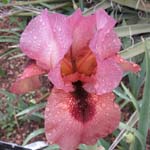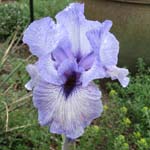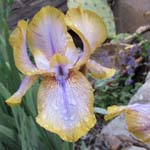 Bearded iris are a staple in cold-climate gardens, and they thrive in Colorado. While used easily in most traditional gardens, they are superbly adapted to drier gardens as well. This garden features a half dozen or so true bearded iris, but you will also see some more exotic looking specimens scattered through the plantings. These are called "arilbred" iris; complex hybrids between bearded iris and several wild species from dry regions of the Middle East. They prefer drier summer conditions than standard bearded iris. Their hallmark is often a goblet-shape with ornate veining or brush-marks on the petals, giving them an exotic look. More than 40 cultivars were added to the garden in 2013, and they are now starting to come into their glory.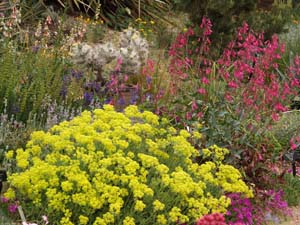 Many native plants mix perfectly well with their imported relatives. Penstemons, as mentioned above, draw hummingbirds all summer, from the first blooms of the firecracker penstemon, P. eatonii, to the later blooms of scarlet bugler, P. barbatus. The west has many dozens of species of Eriogonum or wild buckwheat, as well. Most showy in the spring is the Plant Select variety Kannah Creek®, a selection of E. umbellatum var. aureum. Its lemon-sulfur blooms highlight the garden in bright contrast to purple salvias, violet alliums and sheets of hot magenta ice plant, Delosperma, from South Africa.
The Water-Smart Garden is always in transition and it is ravishing in May. Return to see the next incarnation each month, taking note of your own favorites to add to your own water-smart garden at home.
Photos by Dan Johnson