September Walking Tour: Perennials and Fall Color
By Dan Johnson, Associate Director of Horticulture and Curator of Native Plants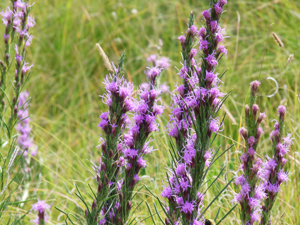 September gardens have a particular glow about them. Plantings are at their zenith, having grown to their maximum through the summer, still dazzling with flowers and now heavy with seed heads, fruits and pods of all shapes and sizes. The gardens (and gardeners) thrive in the cooling conditions, and the lowering sun backlights this late summer frenzy for a bit longer each morning and evening, adding richness to the color palette everywhere in contrast to the longer shadows.
Most trees and shrubs are not yet changing color, but several command attention just the same. In the Welcome Garden you might notice the seven-son flower, Heptacodium miconioides, laced with small white flowers in large panicles on the tips of its branches, perfuming the air from a considerable distance. As the season progresses, the star-shaped calyx of each flower changes to rich wine red, giving the appearance of a second flowering. This grows into a wonderful shrub or small tree. Other specimens can be found in the Rock Alpine Garden, Plant Select, and PlantAsia.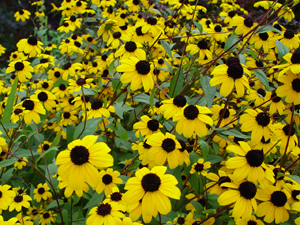 While most perennials are finishing up their season, there are many that just now burst into bloom. The O'Fallon Perennial Walk never has a dull moment, and September is no exception. Just when you might expect the season to go quiet, the late brown-eyed Susan (Rudbeckia triloba), Joe Pye weed (Eupatorium purpureum), goldenrod (Solidago cultivars) and a riot of aster cultivars explode with color, transforming the borders into a feast for honeybees and other pollinators. This year the combination with the Chihuly glass could not be more spectacular.
These same plants can be seen scattered through many of our gardens, especially in Shady Lane, but you may be momentarily distracted there by dozens of other gems. Among them: hydrangeas.  Though not necessarily considered "classic Colorado" plants, many hydrangeas do thrive in partial shade here, with no more care than other common perennials. Especially easy are the Hydrangea arborescens cultivars, such as the traditional 'Annabelle' with its summer snowballs of gleaming white. Newer cultivars have been developed with even larger blooms, like Incrediball®, and the pink form, Invincibelle Spirit® (cultivar name is 'Ncha1'). Flowers of all these types grow heavy as summer progresses, nodding under their own weight, and by September they have slowly changed to cascading globes of lime green. Eventually they dry to tan and can be used in winter dried arrangements. These can also be seen along York Street, the Oak Grove, and the Romantic Gardens.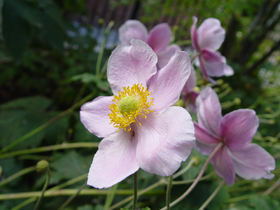 Also in Shady Lane are several cultivars of Japanese anemone (selections and hybrids of Anemone hupehensis). Their soft maple-shaped foliage persists all summer, and in August tall branched stems rise above, tipped with round buds. These open into simple flowers in quiet shades of pink, mauve and white, nodding in the cooling breeze. These can also be found in the Romantic Gardens.
Annuals deserve a mention here as well. All have grown and matured to their peak performance by September, unstoppable until the first frosts arrive. Until then, the show is spectacular. Not to be missed are the flamboyant plantings in the beds and raised planters in front of Marnie's Pavilion; the wonderful rust, lime and orange display in the Orangery Terrace raised planters; and the collection of containers in the Oak Grove nearby, with bold cannas and fascinating carnivorous plants.
In the Laura Smith Porter Plains Garden, the seasons transition more quietly, but September brings a flurry of activity as purple spotted gayfeather (Liatris punctata) starts to fade and lemon-gold groundsel (Senecio spartioides) comes into bloom. Yellow is the theme as sunflowers continue to flower and rabbitbrush comes into full bloom. These all attract countless native pollinators and the garden is abuzz, even as the prairie grasses begin to shift to wine and gold shades. Watch for goldfinches and other birds feasting on the ripening seeds of sunflowers and grasses.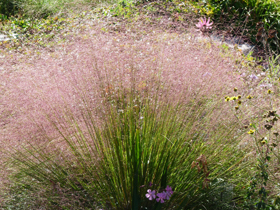 In the Rock Alpine Garden, the spring and summer burst of color is long past, but seed heads of coneflower (Echinacea tennesseensis) still stand, now in contrast to the ruby muhly grass (Muhlenbergia reverchonii Undaunted™), billowing with soft clouds of pink, and especially wonderful in morning and evening light. Towering above you may see the late flowers of one of our prairie giants, prairie rosinweed (Silphium terebinthinaceum). High above its tough football-shaped leaves are slender branched stems tipped with perfect little "sunflowers" in clear gold, standing this year as a wonderful complement to the violet-purple Chihuly glass reeds, emerging from fine-flowered clouds of purple statice (Limonium gmelinii). In the distance you may note the brilliant orange fruits of the mountain ash tree (Sorbus aucuparia) which will hold on late into the season unless birds find them first.
Continue your walk through the south side of the garden towards the east, and you will see hundreds of September gems along the way. Note the exceptional annual plantings around the Four Towers Fountain beds, the new perennials and roses in the Ellipse garden (finally free of Japanese beetles for the season!) and the quiet wooded paths above.
As the gardening season begins to wane, enjoy the subtle shifts in color and light and savor the days of late summer and fall. All of this set against our deep blue skies makes September perhaps our best season for more leisurely strolls through the Gardens in transition.
Photos from Gardens Navigator