November Walking Tour - Grasses at the Gardens 
By Hayley Cook, Horticulturist
It's November. This is the last month for the Chihuly exhibition and throngs of glass art enthusiasts are still enjoying the exhibition featured throughout the Gardens. The flamboya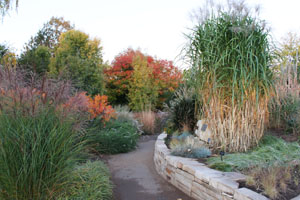 nt color of summer annuals is gone and most of the leaves have fallen, leaving the gardens exposed, real and raw. Believe it or not, this is a perfect time to visit the Gardens and remember why you love it here. Once again, you can see where annuals once coexisted with perennials and how architectural elements mingle with the grounds. You see the 'bones' of gardens and come to appreciate tree habits and branching patterns. Plants hardy to our climate stay, while all others leave, are pulled or simply perish. This is the true Denver Botanic Gardens. The Gardens have been stripped of distractions, inviting you to see the winter landscape and notice the beautiful colors and textures of grasses. This is the grasses' time to shine.
As you cross the street to the Bonfils-Stanton Visitor Center, you are welcomed by the honey-colored glow of ornamental grasses from across York Street. The Sporobolus heterolepis and Pennisetum alopecuroides 'Hameln' are relatively fine-textured, mounded grasses that are complimented by the 'Morden Sunrise' roses, with their large orange hips and the tall purple verbena (Verbena bonariensis) that reseeds here. The bed is brimming with gold and the grasses nearly spill over the edges of the bed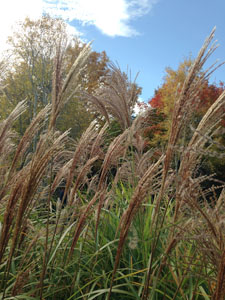 onto the street and sidewalk.
Grasses, like other herbaceous perennials, go dormant in winter. Unlike many other perennials, dormancy is when grasses can look their best, and so, ideally, grasses are left standing until early spring. Walk down Roads Water-Smart Garden and notice the understated elegance of Mexican feather grass (Nassella tenuissima) tucked in here and there. Its fine texture and straw color make for a striking contrast with sturdy blue junipers and strappy yuccas that are the bones of this garden. Oriental fountain grass (Pennisetum orientale) also makes an appearance here. Its fuzzy, spike-like flower clusters, or 'inflorescences', boast a beautiful cream color with pink undertones that will hold up for most of the winter; a tough specimen that appears delicate and playful.
As you approach Marnie's Pavilion on your right, a colossal grass frames the iconic Boettcher Memorial Tropical Conservatory building. This dramatic specimen is ravenna grass (Saccharum ravennae). It towers at nearly 14 feet and features beautiful red stems that support large pink plumes that turn silver in fall.
If you've enjoyed seeing grasses incorporated into gardens in supporting roles and are interested in including them in your home landscape, the Ornamental Grasses Garden is a great place to visit. With more than 50 different varieties, it is the perfect setting for 'window shopping.' There you can see much of what is available and compare grasses side by side. The effect of large swaths of grasses is immediate, breathtaking and inspiring. The Nassella tenuissima from earlier is highlighted in a mass planting that commingles and contrasts nicely with an equally impressive patch of little bluestem (Schizachyrium scoparium). Notice the Maiden grasses (Mis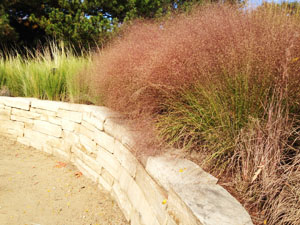 canthus spp. and cvs.) the diverse colors of inflorescences, silver, gold, bronze and purple. Other grasses to highlight are Panicum virgatum 'Dallas Blues', an upright fountain-shaped grass with deep purple panicles and golden foliage, and pink muhly grass (Muhlenbergia reverchonii), a crowd favorite that flaunts miniscule flecks of gold floating above tiny purple stems. The overall effect is a misty pink cloud, a beautiful addition to any garden.
Tune in to the grasses around you. As fall fades to winter, pay attention to how the landscape and grasses within change. Grasses can give the garden an entirely new dimension in the winter. Although the desire to keep gardens tidy may make cutting back grasses tempting, letting them stand through winter is a gift to all who pass by.
Photos by Hayley Cook