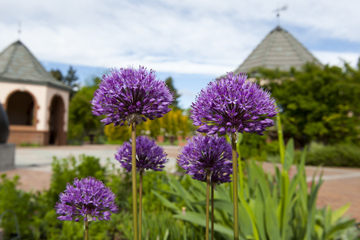 Denver Botanic Gardens has blooming activity throughout the entire year.
Enjoy our Gardens Navigator website.
Guided Tours at Denver Botanic Gardens
Tour the Gardens and gain fresh insight and in-depth knowledge while exploring the Gardens' 24-acre urban oasis. More information on our guided tours.
Self-Guided Walking Tour
Looking for another way to experience the Gardens? Try our Walking Tour.
Plant of the Month for August
The first bloom of corpse flower or Titan Arum (Amorphophallus titanum) occurs after 8-20 years of vegetative growth. On August 19 and 20, 2015 our corpse flower bloomed. This was the first corpse flower that has bloomed in the Gardens' and Rocky Mountain Region's history.