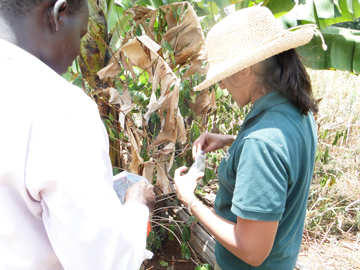 South Sudan Arabica Coffee Land Race Survey in Boma: Germplasm Assessment and Conservation
Dr. Sarada Krishnan was invited to serve on the scientific team to conduct an expedition to South Sudan, led by the World Coffee Research of the Norman Borlaug Institute of the Texas A & M University. The Boma Plateau in South Sudan is considered to be a center of diversity of Coffea arabica (Arabica coffee) along with Ethiopia and Mount Marsabit in northern Kenya. Populations of wild coffee were documented in the forests of Upper Boma in the 1940s. The main purpose of this expedition was to visit these forests to ascertain presence of these populations and collect material to assess genetic diversity. Based on the genetic diversity study, a coffee germplasm will be established in the region for future coffee sector development for economic growth.
The expedition to South Sudan was conducted in April 2012. Coffee populations, both wild and cultivated, were located in the forests of Upper Boma. Seventy-four accessions of coffee leaf samples were collected. Genetic studies were performed at the Garden's conservation genetics laboratory and from the results a report was submitted to World Coffee Research outlining a strategy for collecting and establishing a field genebank in Upper Boma.
This USAID-funded project of the Norman Borlaug Institute will create linkages with South Sudan's John Garang Memorial University for Science and Technology, leading to collaborative research and local capacity building. At the pace at which habitat degradation is happening throughout the world, collecting missions like this will be critical in ensuring that the world's genetic resources are protected and preserved for future use. With coffee, these genetic resources will have significant implications for future breeding.