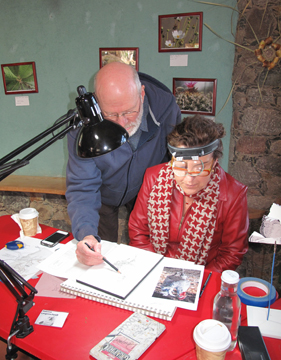 Botanical Illustration Workshops at El Charco del Ingenio Botanical Garden
Denver Botanic Gardens has offered Botanical Illustration workshops at the El Charco del Ingenio Botanical Garden in San Miguel de Allende since 2009. The teaching is in English since this is a strong expatriate art community. We have provided free classes for couple of local Mexican artists in a hope that they could take over in the future.
The curriculum  is modified and adapted for the San Miguel environment, services and needs, however the classes there are completely interchangeable with our classes here at the Gardens. Mexico does not have any formal training in scientific illustration and our program provides a really important link between science and art. It is beneficial for the conservation efforts in El Charco and it also helps to bring the different communities together.