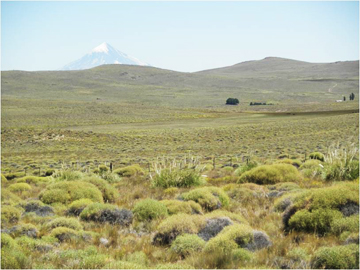 Plant Exploration in the Patagonian Steppe
Patagonia is one of four steppe regions worldwide with a climate similar to our Eastern plains. The diverse Patagonia steppe flora is poorly represented in horticulture and could potentially do well in our semi-arid landscapes. Since 2008, Denver Botanic Gardens has been building relationship with Argentinian officials and local botanic gardens to conduct plant exploration and research in the Patagonian steppe.
In 2011, Dan Johnson, curator of native plants and Mike Kintgen, senior horticulturist, went on a plant exploration trip. During this trip, they documented the regional ecology and flora and fauna. We are now awaiting collecting permits to collect seeds in accordance with the Convention of Biological Diversity.