We brought the Waring House at 909 York Street into the Gardens by connecting it to the Romantic Gardens and built a traditional English garden to showcase this historical home.
The Ellipse garden at the Waring House transforms a parking lot into an intimate garden space. Visitors to the Gardens at York Street are now able to walk south on the Perennial Walk from the Boettcher Memorial Center, pass through the Romantic Gardens and step into this new garden on the north side of the Waring House.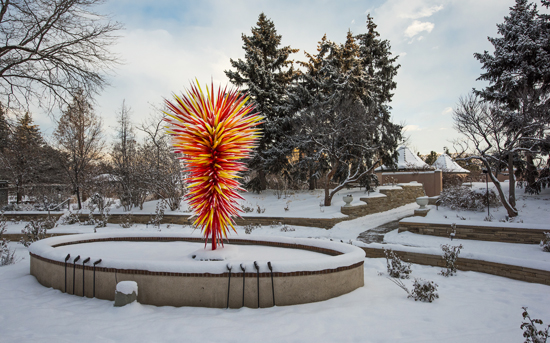 The Ellipse garden is a contemplative space with shady walks, a canopy of large trees, several seating areas and a unique water feature highlighting the Colorado Chihuly sculpture that was installed in December 2014. Among the trees newly accessible to visitors are a Columnar Norway Spruce, which is a Colorado State Champion Tree, and a Thornless Honey Locust that predates the Gardens. Plantings feature many flowering varieties, with a special emphasis on roses.
Colorado's challenging climate is not ideal for growing roses, but through proper cultivar selection of roses and companion plants, this garden showcases sustainable horticultural practices for growing roses in the Rocky Mountain region. Sustainability is a core value at the Gardens and this garden provides the opportunity to demonstrate acceptable conditions for plants that usually prefer moist habitats and acidic soils without using chemicals.
Completing this garden has enabled visitors to enjoy the environment created by Denver architect J.J. Benedict in 1927. The new garden is a compliment to the Beaux Arts house, a local landmark, listed on the National Register of Historic Places. Work to repair and restore the original tile roof of the house, funded by the State Historical Fund, was completed late 2013, followed by construction of the garden beginning early in 2014.